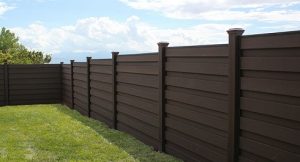 It can be difficult to select the ideal sort of fence for your home, especially if you are unsure of which material will last. Since fabrics, patterns, and textures have been improved, the days of unattractive, fragile materials are long gone. In addition, a game-changing substance has been introduced for strength and durability. So, how long can a vinyl fence be expected to last? The simple answer is 20-30 years, but it all relies on how effectively you perform the tasks listed below.
The life expectancy of a vinyl fence is heavily influenced by where it is installed. Before you decide, consider the context in which the fence will be used – uneven terrain or a high concentration of trees in the region. These types of circumstances can shorten the fence's lifespan by years. Ideally, the installation location is largely solid, free of weak trees, and generally flat. Vinyl fences can however be constructed on a slope, using an installation technique known as "racking."
Proper (Professional) Installation
When installing a vinyl fence, posts cannot be too close together, as the resulting fence will become too rigid and not able to withstand severe winds. Drilling holes about 6 inches deeper than suggested allows for gravel placement and helps to guarantee the fence's sturdiness. Install corner posts first, and keep in mind that gate posts have their own set of instructions. Professional installation can extend the life of your fence while saving you time and money.
Regular Inspections And Maintenance
Simply use a garden hose or power washer to clean your vinyl fence every 3-6 months. Add a little bleach or vinegar to the mix to get rid of any germs or mold that may be present. If you do this on a regular basis, it will survive 5-7 years longer than if you didn't clean it at all. Inspect it at least twice a year for early indicators of damage or maintenance concerns. If you see something that needs your attention, take care of it straight away so it doesn't become a bigger problem later.
Trim Overhanging Branches
Trim any medium or big tree branches that are hanging over the fence, since they may fall and cause damage to your fence. Falling trees are the most damaging of all major causes of vinyl fence damage.
Professional Installation Team In Minnesota
If you're looking for a fencing system that you can count on for strength, durability, and style, consider a vinyl fencing system from Twin Cities Fence. Contact us today at (612) 443-1948 or contact@tcfmn.com, and find the right privacy fence, ornamental fence, or contemporary picket fence for you. Serving Andover, Anoka, Blaine, Coon Rapids, Ham Lake, Spring Lake Park, and surrounding metro cities.