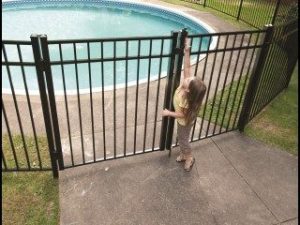 Are you one of the lucky ones that has a pool in their backyard? You likely don't want your neighbors or other kids in the neighborhood to come into your pool without your approval, right? Are you looking to add some privacy around the pool? Whatever situation you may be in, our team at Twin Cities Fence has a solution for you. Consider protecting your pool with a privacy fence from our fencing experts.
If privacy is of utmost importance to you and your family, our team of fencing experts have options for you. Consider investing in a traditional wood privacy fence that will prevent your neighbors from having any visibility into your pool area. These fences can be very tall, making the fence very hard to climb. Another perk of a wooden privacy fence is that it helps keep noise in and out of your yard. This will give you peace around the pool from the hustle and bustle of the neighborhood, and it will also allow any noise you create around the pool to be minimized for your neighbors as well. If low maintenance is your top priority, a vinyl privacy fence may be an ideal full privacy option for you. These gutters are the perfect complement to any home, and they are built to last. This material will not warp, rot, corrode, rust, or break down, making this a great maintenance free privacy fence option.
Chain Link Privacy Fence
If affordability is at the top of your list, then a chain link privacy fence may be the option for you. While this doesn't provide full privacy, it is still a way to create a defined boundary around your pool and backyard and it can ensure that unwanted guests don't make their way into your pool. Additionally, we offer privacy screens as a potential add-on for your chain link fence. This adds a tinted layer of protection that makes your fence more private.
Fence Installation Estimates
Now that you have your dream backyard with your beautiful pool completed, it is time to protect the area, while also adding some privacy to the property. If you own a pool in Minnesota, there are three requirements when it comes to pool access. Your pool gate must open outwardly, it must be self-closing and it should be self-latching. At Twin Cities Fence, we are up to date on all the state requirements for your fence and gates and will educate you on installation so that your property stays up to code. We offer a wide variety of gate styles that match the state's criteria for safety. To learn more about how our crew at Twin Cities Fence can protect your pool with a privacy fence or to request a free estimate, give us a call today at (612) 443-1948.