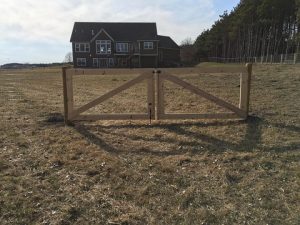 Farm and ranch properties require specific fencing solutions to remain secure, so finding suitable fencing options is of utmost importance. A well-constructed fence not only increases aesthetic appeal, but it can also offer safety, protection, and peace of mind. In this blog post we'll investigate various forms of farm-and-ranch-style fencing available and the distinct benefits each offers.
Traditional split rail fencing: Split rail fencing has long been an iconic fixture on farms and ranches alike, due to its rustic charm. Comprised of horizontally stacked wooden rails supported by sturdy posts, split rail fence is an effective and cost-efficient method of fencing livestock pens or delineating property boundaries while needing only minimal upkeep to blend into its environment seamlessly – an attractive feature which remains relevant today as an economical yet classic fencing choice for both livestock containment and property boundary marking needs. Besides these benefits, split rail fencing requires low upkeep to remain intact over its life cycle thus becoming a popular choice with those seeking both traditional as well as cost effective fencing solutions!
Post and rail fencing: Farm and ranch owners alike often opt for post and rail fencing as an effective livestock containment method while simultaneously adding visual appeal. Constructed using various materials ranging from wood, vinyl, and metal post and rail fences provide flexible containment while simultaneously adding aesthetic value – making post and rail a reliable solution.
Woven wire fencing: Woven wire fencing offers strength, visibility and affordability making it an excellent option for agricultural properties. Composed of tightly interwoven horizontal and vertical wires woven together into an intricate grid pattern to form security fencing that keeps out unwanted predators while providing security to livestock within. Available in various heights and gauges it's designed for specific requirements as a practical yet reliable option for farm or ranch owners looking for security fencing solutions that lasts through all weather conditions – making woven wire an affordable yet dependable choice.
Electric fencing: Electric fencing has become increasingly popular due to its efficiency, cost effectiveness and flexibility. Utilizing low voltage electric pulses that deter animals from crossing a fence line using low-voltage electricity pulses as its power source. Electric fences can easily adapt to fit various farm or ranch requirements from temporary enclosures to permanent perimeter protection – it's highly effective at keeping livestock contained while simultaneously protecting crops against damage by wildlife as well as deterring wildlife away. Plus, it requires no regular maintenance costs with its solar energy power option making this eco-friendly solution!
Farm And Ranch Fencing Installer
Finding a farm-and-ranch fencing option that fits both the security and functionality needs of your property is essential to its protection and enjoyment. Twin Cities Fence's experts can guide your decisions towards selecting an optimal option from traditional split rail, post & rail, woven wire, or electric options that suit you best. With locations in Andover and Blaine, contact us at (612) 443-1948 today!