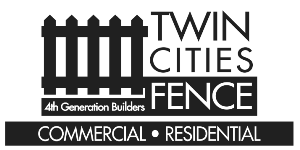 Fencing on uneven ground presents unique challenges to property owners in the Twin Cities. Uneven terrain makes installing traditional fencing difficult while adding aesthetic value and providing security and privacy – yet with the appropriate type of fence in place you can overcome these hurdles to create both beautiful and functional solutions for uneven ground fencing. In this article we explore some of your options available to you in Minnesota.
Ornamental aluminum fencing: Ornamental aluminum fencing makes an excellent option for uneven ground due to its adaptability and versatility. Lightweight yet sturdy, aluminum can easily adapt to different terrains while its adjustable panels and brackets enable installation even on sloped surfaces with minimum effort required – plus its resistance against rust and corrosion ensure longevity with reduced maintenance requirements!
Vinyl privacy fencing: Vinyl privacy fencing offers excellent privacy, security, aesthetics and changes in terrain while accommodating them seamlessly. Vinyl panels can easily conform to follow contours in terrain ensuring a sleek and seamless appearance – not to mention being resistant against rot, insects and harsh weather conditions! Making vinyl an excellent long-term investment option in Twin Cities properties.
Chain link fencing: Chain link fencing is an economical and flexible choice for uneven ground, offering great versatility when installed using taller posts to slope the fence mesh according to slope. Furthermore, chain link fences require little upkeep while offering good visibility – ideal features when security concerns come into play.
Split rail fencing: Split rail fencing creates a rustic and natural aesthetic on uneven grounds and features wooden posts and rails which can easily adjust with changes in terrain. Split rail fences also serve to define boundaries while keeping livestock secure within your property boundaries while giving an open feel.
Composite fencing: Composite fencing combines the benefits of wood and plastic materials, making it a fantastic solution for uneven grounds. Offering natural looking wood grain without its drawbacks such as warping or decay, composite materials require minimum upkeep or maintenance costs and have low adaptability so installation on uneven terrain should not pose a difficulty.
Fencing Contractor Specializing In Uneven Ground
As uneven ground surfaces exist in the Twin Cities, selecting an effective fencing option can be daunting. From ornamental aluminum and vinyl privacy fencing options to chain link's affordability and rustic charm of split rail fencing or composite's durability and affordability; fencing professionals offer many solutions which not only match up well with uneven ground but also enhance aesthetics and security on any Twin City property. By consulting them and taking into consideration unique aspects of your property such as slope, you may discover one which enhances both.