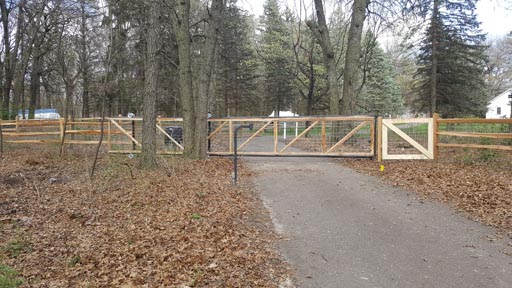 Twin Cities Fence is an experienced and reliable professional fence contractor that specializes in all types of fence installation. One type of fence that you may not realize we offer is installing driveway gates. If your goal is to fence in your entire property for security reasons, a driveway gate can connect your fence at your driveway and allow entry and exit to those that you approve.
Improve Security of your Fence System with a Driveway Gate
If you have fencing around your property for security and protection, your driveway gate should not be the weak point in that security system. If you partner with Twin Cities Fence, your driveway gate serves as a continuation of the strength and security offered by your entire fencing system. When we install your driveway gate, it will be done with the same attention to detail and the professional standards set by our professional fence contractors. We have experience installing slide gates, swing gates, and barrier gates and can help you choose the best driveway gate for your property.
There are many reasons for having a driveway gate, and security is one of the more common and important ones. Once you have established the primary reason for installing your driveway gate, our team will be happy to sit down and talk to you to ensure that the gate you choose complements your property. We can and will work with you to make sure the style of your driveway gate also has the visual appeal you are looking for.
We are happy to make recommendations about what material will work best for a driveway gate on property, and what will match your current fencing system. The number of options we can provide allows us to share our expertise and knowledge of the strengths and weaknesses of each material. We have been in the fencing industry for more than four decades and have built a reputation for high quality work, excellent customer service and affordable pricing in that time. Ultimately, we want you to make an informed choice and to get exactly the product you are hoping for.
Experienced Driveway Gate Installers
A driveway gate can complete the esthetic you are seeking for your home, and there is often a new-found comfort that homeowners feel when they know that their fencing system is connected with a strong driveway gate. We are a full-service, comprehensive fence installation company, which also means that if your fence or driveway gate (or the rest of your fence) develops a problem, we are available to fix it. If you would like more information about driveway gate or installation options, give us a call at 612-443-1948.