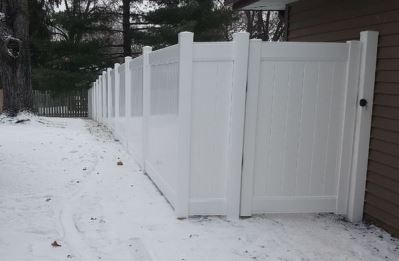 Do you have a fence on your property that either has a damaged gate, or simply needs a gate added? If so, you want to ensure the fence contractor you hire is experienced when it comes to adding a gate to an existing fence. At Twin Cities Fence, we're experts in all types of fence installation and fence repair, including adding gates of all sizes and shapes to existing fences. Feel free to reach out to us if you'd like for us to come by to provide you with a complimentary estimate for adding additional gate(s) on your property.
Why Would I Add a Gate to My Fence?
There are a whole host of reasons why you may want to add a gate to your existing fence, a few of which might include:
New pets – Do you have a new furry friend that loves to spend time outside? If you already have a fence on multiple sides of your property, you can add a gate to help enclose an area. This way your new pet can enjoy time outside safely without you worrying about them running off to explore outside of your yard.
Keep children in or out – If you have children, it can be hard to keep them in one spot. By adding gate(s) to your fence, you can create a safe area where your kids can play and explore without the fear of them running towards the road, or going into a neighbor's pool. Kids literally can be gone in a flash, so it's important, especially when they're young that you have an enclosed area for them to play.
Security – Adding a gate to your fence can help to keep your family and pets safe inside, while keeping unwanted individuals and animals outside. Most gates offer the ability to easily add locks, which can further add security to your property.
Don't Add a Gate to Your Fence on Your Own – Call Twin Cities Fence Instead
You may be tempted to add a gate to your existing fence on your own, but the reality is that fence installation can be quite difficult. In addition, some of the cheap fencing materials that you may purchase at your local big box store may not stand up to the daily abuse of your family and your pets. To learn more about high quality gates, feel free to reach out to Twin Cities Fence today. We'll be happy to come take a look at your existing fence and determine the best way to add a high-quality gate that will last for many years to come. Give us a call today at 612-443-1948 to setup a free consultation with one of our fence experts.