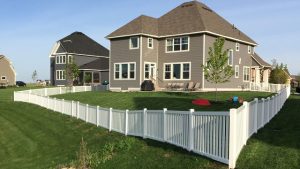 There are countless reasons why you may want to add a fence to your property. You may want an added layer of security, you may want to let your kids play outside and your pets out safely without constant monitoring, or perhaps you want privacy from a road and/or close neighbors. Fences offer many different functions and can add value and an aesthetic appeal to your property. Twin Cities Fence is a professional fence installation contractor serving the businesses and residents in Maple Grove, MN. We can install a wide variety of fence styles and types to meet your specific needs.
Maple Grove Fence Installation Contractor
Twin Cities Fence has been in the fence installation business for more than forty years. Our experienced fencing contractors are highly trained and professional and can help you determine the best fence for your property and your needs. The weather in Minnesota can be harsh and, over time, our weather can take a real toll on a fence. Choosing a durable, strong material is really important to ensuring that your fence can stand the test of time. We can help you find the right material to complete the function you need without compromising quality and durability. Twin Cities Fence can install the following fence types:
● Vinyl Fencing
● Cedar Wood Fencing
● Galvanized Chain Link Fencing
● Color Coated Chain Link Fencing
● Steel Ornamental Fencing
● Aluminum Ornamental Fencing
● Privacy fencing
Trust Fence Installation Company in Maple Grove, MN
We understand that hiring a contractor to work on your home requires trust. We work to earn the trust of our community and this means offering high quality materials, extraordinary customer service, extensive experience with fence installation, and many different fencing design options. Our professional fencing contractors are prompt, professional, friendly and have the creativity it takes to turn your vision for your property into a reality. As a local business in Maple Grove, we value our community and realize that personal recommendations for our work are the best compliment that can be offered. We stand behind each and every fence installation project and guarantee customer satisfaction. We offer highly competitive pricing and really care about making sure our customers are happy with the final product.
So, if you live in the Maple Grove area and have been thinking about adding a fence to your property, give the team at Twin Cities Fence a call today at 612-443-1948.