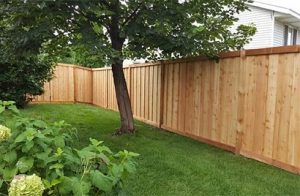 Would you like to have a little more privacy from your neighbors? Do you have a pool in your backyard, and you're looking to secure the area? Maybe you have a dog, and you want to be able to let the dog out in your yard without having to take them out on a leash. In any of these situations, our team at Twin Cities Fence has a solution for you. Consider investing in a privacy fence for your Minnesota Property. As a 4th generation fencing company, we are the right team for the job when it comes to your privacy fence installation.
Popular Privacy Fence Materials
When it comes to choosing the material for a privacy fence, most of our clients choose between the following:
● Wood Privacy Fence – This traditional option keeps your neighbors from being able to see into your yard. Wood privacy fences are extremely popular and have been around for decades. This fencing option is great for creating boundaries in your yard, protecting your property from trespassers and keeping pets and children secure on your property. Thanks to our vast amounts of experience, we can custom build your wood privacy fence to meet your every need. Choose from the traditional wood look or a more unique, decorative design.
● Vinyl Privacy Fence – The popularity of vinyl privacy fences are continuing to grow. Vinyl privacy fences are able to provide the same level of privacy and security as a wood privacy fence. This material doesn't warp, rot, corrode, rust or break down, making this a very low maintenance privacy fence option. Our vinyl privacy fences come in a variety of colors and options that will be sure to tie in well with your existing home.
Hassle Free Estimate
Are you scared to commit to this project because you are unsure about the overall cost? That is totally understandable and is exactly why our team offers free privacy fence estimates. This allows our clients to get a true understanding of the financial costs around this home improvement project. We will provide you with a detailed breakdown of the expected costs, so that you can make a decision as to whether or not now is the right time to move forward with this project. This is a no hassle estimate, so if you decide to walk away from our competitive estimate, that is totally ok.
At Twin Cities Fence, we would love to create the perfect privacy fence for your Minnesota property. To request a free privacy fence estimate, give our team a call today at (612) 443-1948.