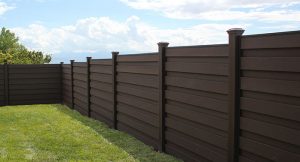 If you're looking for a highly versatile fence material you've likely come across Trex fencing. While Trex has been made famous for its use in decking, it's actually quite popular as a fencing material as well. There are a number of reasons why choosing Trex is the right decision for your next fence.
8 Benefits Of Trex Fencing For Your Home
1. Consistent Look – Trex fencing ensures that you get the same look on both sides of your fence. This is much different than traditional wood fencing which forces you to choose which side will look "best". Your neighbors will thank you again and again if you install Trex fencing.
2. Variety of Color Options – With Trex fencing you typically have three color options: Saddle (light tan), Woodland Brown (dark brown) or Winchester Grey (light grey). These color options should offer something for everyone regardless of the style of your home.
3. Full Privacy – Trex fencing utilizes an interlocking picket design which provides full privacy while also eliminating bowing and shrinkage often seen with other fence materials.
4. Wide Range of Fence Height Options – Trex fencing is a component fence system allowing homeowners to install a variety of heights from 2' – 12'.
5. Low Maintenance – One of the greatest benefits of Trex fencing is the fact that your new fence will require very little maintenance. The type of wood fiber and plastic used with Trex materials requires you never to have to paint or stain your fence which will save you significant time and money down the road.
6. No Rotting or Splintering with Trex – Another thing you'll never have to worry about with Trex fencing is rotting or splintering. Save time and money by installing a Trex fence once so you won't have to worry about any maintenance for many years to come!
7. Insect Resistant – Insects and animals can cause significant damage to wood fences. Trex fencing on the other hand is resistant to insects which will allow you to stop worrying about fence repairs and focus on other maintenance tasks around your home!
8. 95% Recycled Materials – There is no more environmentally friendly fence material compared to Trex. Comprised of 95% recycled materials you know that when you choose a Trex fence you're being as environmentally conscious as you possibly can be.
Reach Out To Twin Cities Fence For A Free Trex Fencing Quote
If you're interested in learning more about Trex fencing don't hesitate to reach out to our team today. We offer free estimates and will be happy to discuss the many benefits of a Trex fence. Give us a call today at (612) 443-1948.