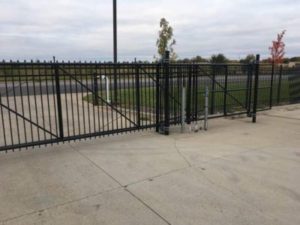 No matter what type of commercial property you own, a fence is always a good thing to have. Not only can it add a professional flair, there are numerous functionality components that make a fence not just a nice feature, but a necessity. If you are looking to install or even repair commercial fencing in Minneapolis, Plymouth, or in Maple Grove, MN, give Twin Cities Fence a call today.
Commercial Fencing Contractor
For over four generations, we have been in Minneapolis, Plymouth, and Maple Grove, building and installing fences for the community. We truly are just a phone call away for commercial property owners. As a commercial property owner, when you are choosing your fencing contractor there are numerous factors to consider. Experience, quality, and accessibility are all important aspects of fence building that you will need. Not only do we have the experience and quality at Twin Cities Fence, but we are available day and night, even in a bad storm where your fencing system could fail. We want you to always feel like your property is left tidy and secure.
Fencing Functionality
Whether you are looking to use a fence to make the property more aesthetically pleasing or you're looking for privacy and security, we've got the right fencing system for you. You'll have your pick on fencing styles, sizes, materials, and designs. Privacy fences, ornamental fences, and chain link fences are only a few examples of how your fence can function for you!
Privacy Fences: Keep what you want in and what you don't want out. Whether you want your entire property enclosed in a privacy fence or just a portion to designate as a restricted area, we can customize your privacy fence to ensure it's everything you need and want.
Ornamental Fences: While these fences are beautiful and aesthetically pleasing, they do a great job at preventing unwanted guests and providing clear and concise property lines. These can be made to look standard or dressed to impress.
Chain Link Fences: This option is made with high-quality at an affordable price. It is made to keep your commercial property secure. We even make PVC color-coated chain link fencing so that you can get the color you desire, while adding to its already durable quality.
No matter what type of commercial fencing you need, Twin Cities Fence can get the job done. For more information about commercial fencing in Minneapolis, Plymouth, and Maple Grove, MN, give Twin Cities Fence a call today at 612-443-1948 or email contact@tcfmn.com. .