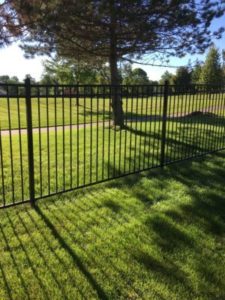 Who says that a fence on your property can't be attractive? If your property in Forest Lake, Stacy, East Bethel, Oak Grove, Blaine or Ham Lake, MN is in need of a fence, don't just resort to the base level option. Instead, bring some life to your property with ornamental fencing. Lucky for you, one of the best ornamental fencing contractors is right in your backyard ready to bring some extra attraction to your property. Team up with Twin Cities Fence today and let us help you achieve the look you've been seeking!
Galvanized Steel Ornamental Fencing
If you've lived in the Minnesota area for any amount of time, you know how tough mother nature can be on this region of the country throughout the year. When it comes to your ornamental fence, choosing galvanized steel will help ensure that your fence can stand up against whatever type of weather comes your way. Galvanized steel is one of the toughest materials on the market. Additionally, our expert ornamental fencing team can help you create a simple or custom look. Do you prefer the traditional fence look? Maybe you pay attention to detail and prefer a one of a kind look. Either way, Twin Cities Fence is the contractor for you!
Aluminum Ornamental Fencing
If you aren't interested in the galvanized steel option, our aluminum ornamental fencing is the ideal fit for you! Two great aspects of our aluminum ornamental fences are that they are affordable and maintenance free. Aluminum ornamental fences can be used to create a true property line between you and your neighbors or can be used to enclose your pets and children. Going with an ornamental fence will bring character to your home and even increase your property value. More and more people prefer to have a fence on their property, so an aluminum ornamental fence is a wonderful investment. You'll be patting yourself on the back with this maintenance free fence because you'll never have to worry about it warping, fading or rusting!
Before defaulting to the standard fence that every other yard in your neighborhood has, consider investing in an ornamental fence that will bring your yard true character. If you are looking for an ornamental fencing contractor in the Forest Lake, Stacy, East Bethel, Oak Grove, Blaine or Ham Lake, MN area, look no further than Twin Cities Fence! Give us a call today at (612) 443-1948 to learn more about our ornamental fencing options.