Commercial fences in this area are growing in popularity. At Twin Cities Fence, we want to give your property the right fence installation for whatever your commercial needs may be. We have all different types of commercial properties that are seeking fences for a variety of reasons. We offer a multitude of materials and styles to fit almost any commercial fence need. At Twin Cities Fence, we want to give you the commercial fence that makes the most sense for you. Serving Blaine, Coon Rapids, East Bethel, Andover, and Ham Lake, MN, we are ready to install your fence today!
Types of Commercial Fencing:
● Chain Link Fences
● Vinyl Fences
● Wooden Fences
● Aluminum and Steel Ornamental Fences
Commercial Chain Link Fencing
This is an extremely popular option for a lot of commercial properties. It offers a multitude of fu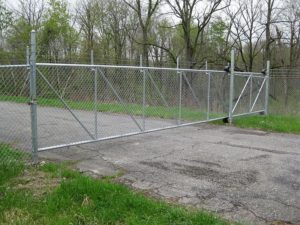 nctionality. Parks will use this option for recreational purposes like baseball fields and other sporting areas. Most commonly, some commercial businesses will use these fences to keep their lots safe, keeping trespassers out or bordering specific areas that are restricted.
Vinyl Fencing
If you are searching for privacy, vinyl fencing allots it. Vinyl fences are difficult to climb and also add a nice contemporary feel to your outdoor space. Clean lines, durability, low maintenance, and privacy are the major perks of vinyl fencing.
Wooden Fencing
Going for a classic look? Wood fencing is definitely your all-time, classic fence. The versatility of wood allows you to do a variety of things. From picket fences to privacy fences, a wood fence can do it all. Wood fences offer high aesthetic value and can add beauty to a commercial property that is looking to create property line definition.
Aluminum and Steel Ornamental Fencing
While this option hasn't trended as much lately, it doesn't mean you should count it out. Aluminum and steel ornamental fencing is durable and weather-resistant. It is the perfect fence for those looking to make a statement or those looking to restrict trespassers. We often see these fences at amusement parks or around pools and hotels. It is a low maintenance fence that offers durability and reliability.
No matter what type of fence you choose, Twin Cities Fence will perform the installation flawlessly. Our company has the professionals that will get the job done right. If you are having trouble deciding what type of fence to use for your commercial property in Blaine, Coon Rapids, East Bethel, Andover, or Ham Lake, MN, let our experts help you make the ideal decision that will fit your needs. For more information, give Twin Cities Fence a call today at 612-443-1948.