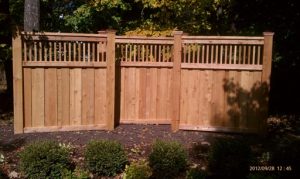 If you have made the decision to have a wood fence installed on your residential or commercial property in Minnesota, you may want to consider the many benefits of using cedar. Cedar wood fences are much more durable than other softer types of wood and can also withstand the elements. The Minnesota winters can be brutally cold with significant precipitation, and you can expect cedar to hold up better than most other types of wood. In addition, the natural oils in cedar also help to prevent insect infestation and even rotting. Twin Cities Fence is a Minnesota cedar fence installer. Our team can help you design the perfect cedar fence for your property.
Benefits of Cedar Fencing
Cedar fencing can be used for security, privacy, to define your property line or simply to add aesthetic appeal to your home. We can install cedar fencing for many different property sizes and shapes. In addition, we can build low fences, tall privacy fences, wood post fences or even cedar fences with steel posts for added durability. Cedar fences are perfect if you are looking for a wooden picket, privacy, or post and rail style fences. Cedar fences can give you a unique and custom look that enhances the look of your property.
Our team at Twin Cities Fence is happy to sit down with you before the installation process begins and discuss exactly what you are looking for and make recommendations based on our experience and any budgetary constraints that you have. Our goal is to install a fence for you that meets your expectations, looks good and is highly functional. We take great care to make sure that your fence is installed properly so that you can be confident that it will last for many years to come.
Cedar Fence Installation Company in Minnesota
Our cedar fence installers are trained and experienced and very familiar with the terrain and weather in Minnesota. No matter what material you choose for your fence, it will be vulnerable to the elements 24 hours a day, 7 days a week. This is why we also offer 24/7 service in case you have a problem with your fence. Our team stands behind our work and will install or repair your fence quickly, professionally, and without disruption.
Twin Cities Fence has been installing residential and commercial fences in Minnesota for more than forty years. We value our customers and work hard to make you happy. For more information about options for cedar fencing installation, call us at 612-443-1948.