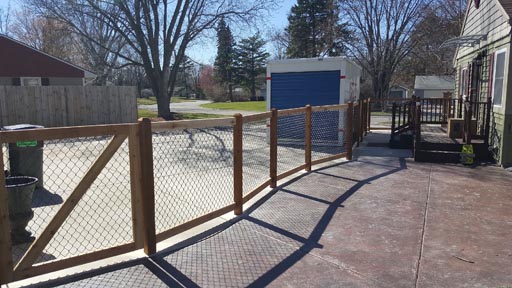 Do you own a commercial property that has a chain link fence? Are you noticing weaknesses in certain areas? At Twin Cities Fence, we are a commercial fencing contractor that offers commercial chain link fence repairs for Twin Cities properties. The integrity of your fencing unit is important to a commercial property. For quick and efficient repairs, we are the first and only commercial fencing contractor you should call.
24- Hour Emergency Chain Link Fence Repairs
At Twin Cities Fence, no matter what day it is, or even what time of day it may be, we are committed to being there when you need us. We are a commercial fencing contractor that is fully aware that breaches in the integrity of your chain link fence can be both a hazard and a vulnerability to your commercial property. Therefore, we make ourselves available to our customers 24-hours a day, seven days a week. Whether you have a small area that has been compromised or your entire fence has been knocked down in a storm, Twin Cities Fence is here to help you in an emergency. No longer do you need to worry about the security of your commercial property or even the aesthetically unappealing view of your compromised fence.
Chain Link Fence Repairs
When it comes to chain link fences, we have to live in the knowledge that they are just not indestructible. Whether your chain link fence is damaged from storm or the integrity of your fence has broken down over time, it's important that we go ahead and repair it. Contrary to popular belief, chain link fence repairs do not always mean we have to replace the entire thing. Sometimes we can repair or replace small sections of your fence instead of the whole thing. This makes it both cost effective and efficient for the business owner. Why should we replace a perfectly good section of the fence until it is needed? At Twin Cities Fence, we are skilled and knowledgeable enough to repair and replace small sections of the fence with the right materials that will blend with the rest of the fence system well.
Commercial Fencing Contractor
Commercial chain link fencing is a versatile commercial fencing system that comes in a variety of different weights and heights. While we are always here for commercial chain link fence repairs in Twin Cities, MN, we also offer the option of chain link installation. Our chain link fences are made with the highest quality. It is made with galvanized steel and dipped in a zinc coating that provides that added layer of protection. We also offer an extra layer of PVC coating for extra weather resistance if that is something you may be interested in.
As a commercial chain link fence contractor, Twin Cities Fence is proud to offer both installation and chain link fencing repairs in Twin Cities, MN. For more information about our services, give us a call today (612) 443-1948 or send us an email at contact@tcfmn.com.