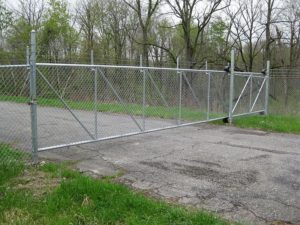 Chain link fence in Minnesota has been a staple for homeowners and businesses, for many years. Chain link fence is a popular choice due to the economical advantage, and can withstand harsh Minnesota winters, and blazing sunlight, making them more popular than other fence products available on the market.
Chain link fence comes in 2 finishes: galvanized steel and vinyl coated chain link. Galvanized is the traditional silver colored chain link that has been on the market and popular for over 50 years. Recently, manufacturers have added a vinyl coating to the outside of the galvanized core in a variety of color, and this also offers benefits such as protection from corrosion. These color options can help make your chain link fence more aesthetically pleasing.
Fence Installation Services MN
We specialize in installing a variety of fences, and want to meet your every need to build a fence that you are 100% happy with. The advantages of installing a chain link fence include:
Durability– Galvanized steel chain link fences are easy to maintain, and are protected against rusting and weathering.
Affordable– Chain link fences are the most affordable fencing system, making them a popular choice. Affordable to install, and the longevity of the material, there isn't a more affordable fencing option.
Custom Color Option– Most chain link fences are the standard steel fencing systems, but if you want to choose a color to make it more visually appealing, there are endless options, and this also adds another layer of vinyl coating to protect the fence from rusting and weathering.
Security– This fence can help keep pets and children at home within the boundary of your yard, and also help keep trespassers out.
Fence Repair, Minnesota
Due to the harsh weather in Minnesota, it is common to have fences blow over, or break apart. When your fence is unexpectedly broken, knocked over, or damaged, Twin Cities Fence offers 24-hour emergency repairs.
Scheduled Fence Repairs
Repairs are an unavoidable part of fencing and gate installation, and we want to make this process for you as easy and painless as possible. We are committed to ensuring that your fence or gate is repaired properly to remain as durable and functional as possible. Fences can break down due to age, wear or weather damage, and we want to be there to provide you with the best service to repair or replace your fence as quickly as possible.
For more details about fence repairs or installations please contact us at 612-443-1948 or contact@tcfmn.com, or visit us at our Andover, Minnesota, location.