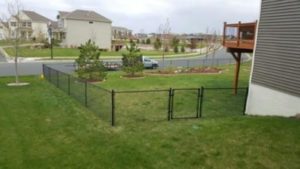 Chain link fences have been around for decades and are used for a wide variety of things. As you drive by a school, you'll notice chain link fences around the baseball field. Your nearby pool most likely has a chain link fence surrounding the water. Businesses utilize chain link fences to keep their equipment safe. This type of fencing is so common that we often don't even notice them around the community. That is, unless you see a black chain link fence. Rather than going with the standard chrome chain link fence that doesn't bring much beauty to your property, consider investing in a black chain link fence that will bring your property the elegance and beauty that it's been missing. If you are looking for a black chain link fence installer in the Twin Cities, look no further than our experienced team at Twin Cities Fence.
All Around Performance
Black chain link fences are continuing to become more popular across the country. Not only does it provide a boost to your curb appeal, but chain link fences are built to withstand the tough Minnesota weather that we deal with on an annual basis. At Twin Cities Fence, our black chain link fences hold up great against changing temperatures, bright sunlight and even heavy storms. This type of fencing is the perfect barrier for your pet, business, pool, etc. To top it off, black chain link fences are one of the most affordable fencing options that we offer. Other great perks of a black chain link fence include:
Low Maintenance – The galvanized steel used in our black chain link fences requires minimal maintenance. Galvanized steel has an extra layer of protection to prevent rusting and weathering. Choosing a black chain link fence over the standard chain link fence gives you an additional layer of protection which will help your fence last even longer!
Security – Chain link fences can be built to your preferred height, so security is not an issue. Depending on what you need your fence for, this black chain link fence will keep intruders out and your pets inside your fence line!
Curb Appeal – A black chain link fence on your property is a great selling point should you ever decide to sell your residential or commercial property.
So, if you are in the market for a fence that will bring elegance to your property, while also being durable and affordable, you can't go wrong with a black chain link fence. As a black chain link fence installer, our professionals at Twin Cities Fence are eager to get your fencing project started in the near future. If you are in the Twin Cities, give us a call today at (612) 443-1948.