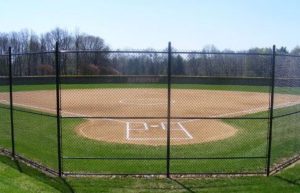 If you're looking for a Minnesota baseball fencing contractor, look no further. At Twin Cities Fence, we install countless types of fencing, from garden fencing to sports fencing, including baseball field fences! Whether you've got an indoor field or outdoor field, we have the materials needed to build whatever type of fence you want in whatever location you want it. And if you have multiple fields that need fencing, great! We can tackle small and large jobs alike!
Whether you have an indoor or outdoor baseball field doesn't matter much to us – the only thing the location will affect is what types of fencing materials you might choose from. We'll help you look over the many fencing materials and styles and decide which fencing system best meets your needs, whether it be surrounding an outdoor field, separating an entire facility full of indoor baseball fields, or otherwise. If you can give us an idea of the scope of your project, we can help you make the right fencing selection.
Baseball Field Fencing
At Twin Cities Fence, we install a range of fencing styles using a great selection of durable and trusted fencing materials. And you don't have to choose just one! You can create a combination of fencing materials and styles to suit your needs and make sure your field looks and functions just as it should. Our fencing materials include:
Wood Fencing
Vinyl Fencing
Chain Link Fencing
Aluminum Fencing
Steel Fencing
Trex Fencing
What fencing styles can you choose from?
Wood privacy fence
Wood split rail fencing
Wood picket fencing
Vinyl privacy fencing
Vinyl post and rail fences
Vinyl picket fences
Tall and short chain link fences
Ornamental aluminum fences
Ornamental steel fences
Trex privacy fences
So which fencing style and material is right for your field? That depends on you! If you're building an outdoor field, you may want to invest in a more long-lasting, weather-resistant material. If you're building several outdoor baseball fields and don't have it in the budget to spend more on a longer-lasting fencing system, maybe you can try the next best thing! When you're choosing your materials, you'll want to think about how secure you want your field to be, how effective your fencing system should be at keeping balls inside the field, whether your fencing system will be decorative, how weather-resistant your fence should be – if at all, how much maintenance your fence will require, and of course, your budget.
Municipal Baseball Fencing Contractors
Whether you're building a public field, a baseball field at your home, or a commercially owned field, the MN baseball field fencing contractors at Twin Cities Fence are happy to help. We have experience installing fencing for commercial, residential and municipal properties, and we understand the challenges and requirements that come with each type of project. Call us today at 612-443-1948, and get started designing a fencing system that fits your needs and your budget.