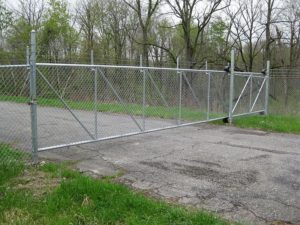 Are you looking for a gate system for your property? Do you want a way to provide easy access to your property while keeping trespassers out? Do you need a way to section off off-limits areas of your property? At Twin Cities Fence, we provide commercial gate installation services all over Andover, Coon Rapids, Ham Lake, and the surrounding areas, helping Minnesota business owners ensure their properties are secure. Whether you're looking for a simple swing gate or an extensive roller gate system to protect your property, we're the right gate installation company for you, with experience installing gates of every kind. Whatever materials you need for your gate, we can provide and install them, matching an existing fence, building a new fence along with your new gate, or even repairing an existing gate. Whatever you need, our commercial gate contractors will set to work ensuring that your property looks great and feels secure!
Roller gate systems are often used at property entrances to create a drive-in access point for you, your employees, and your clients. Whether you're looking for the aesthetic appeal of a roller gate or just the added security it brings to a property, you can't go wrong with a well-designed roller gate. At Twin Cities Fence, we install fences and gates of all materials, which means that you can also get your fence gates in any material you choose, from chain link roller gates to aluminum and steel roller gates. Whatever you choose, we'll be sure that your gate is fully functional and serves any needs you have so that your business can start running the way you want it to in no time.
Commercial Swing Gates
If you're looking for a commercial swing gate to add on to a fencing system on your property, you'll have more gate materials available to choose from, including aluminum and steel, chain link gates, wood gates, and vinyl gates. Whatever you choose, at Twin Cities Fence, we have experience installing gates of all types and materials to either complement or contrast with your existing fencing system. We'll be sure to match your fence materials and design, if desired, and make sure your fence gate looks and operates in the way that you need it to for your business. With swing gates, you can have a simple fence swing gate that provides a walk-in access point to your property or a portion of your property, or you may want a larger drive-in access swing gate, popular at the front of properties using steel or aluminum. Whatever commercial gate system you choose to accent your property's fencing, Twin Cities Fence can help. Our commercial gate contractors service the Andover, Ham Lake, and Coon Rapids, Minnesota areas, and with a call to 612-443-1948, we'll be at your property to begin a free gate installation estimate.