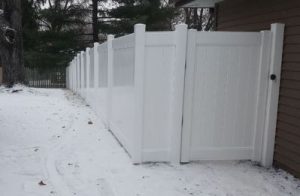 Falling snow can be a beautiful sight, and Minnesota gets a fair share of snowfall each winter. A harsh winter however can affect your fence. Here are some tips to help you prepare your fence for winter's frozen grip, so you can keep your fence standing strong:
Before the snow starts to fall, check your fence for any loose boards or damage. Repairing the fence before the winter weather comes will help keep your fence strong through the winter. Fall is also a good time to apply wood stain or a sealant to protect wood fences from the excess moisture that snow/ice will produce.
Trim trees That Overhang Fence Lines: If you have any trees near your fence line, you should take care to cut back any branches that sit close to or above the fence. This will help prevent those branches from breaking off under the weight of snow and damaging your fence. Performing this simple maintenance task can save you a fence repair later.
Ensure Your Fence Is Visible: If your fence sits near a road, it's at a greater risk of being hit in the winter. If there's snow on the ground it can be very difficult to see a fence, especially if it's white. To avoid your fence being hit, you can place reflectors on your fence to increase visibility.
Clear Excess Snow Buildup: Wood fences absorb water. Being saturated for long periods of time may cause mold, mildew, or rot. Help avoid this situation by simply brushing the snow from your fence. Ensure you use something soft, like a broom or a gloved hand, to avoid damaging the fence.
Plow Or Shovel Around Fence Lines Carefully: If your fence is close to your driveway, be careful to avoid piling the snow up near the fence when shoveling or plowing. The weight of the snow could potentially cause your fence to sag, warp, or fall over. Fences can also be damaged by the plow itself, so be sure you're driving responsibly!
As we prepare for snow during the winter months, keep these tips in mind! If you need advice or help with your fence, give Twin Cities Fence a call anytime. To order fence parts or schedule professional service, call (612) 443-1948 or contact us online!