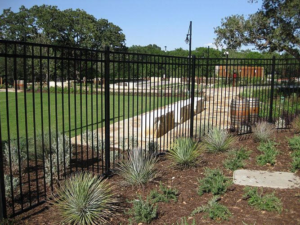 Fences in your yard are a great option to create privacy and define the boundary between your property and that of your neighbors. No matter where you live, fence construction is subject to many rules and regulations. What's allowed and what's not?
There are often rules and regulations that determine whether you can build a fence to surround your yard, and how it should be constructed if you're allowed. Fence laws are usually localized regulations, which means they will vary a lot depending on the zoning. You can find out the specifics of the fence rules in your area by contacting the local government. This is usually the city or county. You may be required to follow regulations from your local government, or homeowners' association, regarding the ownership of a fence that separates two properties, its appearance, the distance it can be from property lines, and fence height restrictions. It's possible that you need to get permission from the local authorities before you can build a fence. There are some great online resources for Minnesota residents regarding local fence laws.
Can I Build Close To My Property Boundary?
Fences are usually built 2 to 8 inches away from the property line. In some areas, fences can be built directly along the property line. However, in these cases, you will have to work with your neighbor, and possibly share the costs of the fence. Contact city hall or your local building inspector to find out how close you can build the fence.
Responsibility For Fences Along The Property Line
If a fence is constructed on the property line of two homeowners, they are both responsible for the cost, unless otherwise agreed. If fence repair is needed, then both owners are responsible. If one refuses to pay, the other may take legal action, depending on local fence laws. Consult your local government to find out the rules in your neighborhood regarding property line fences. To maintain peace, it is important to keep communication channels open with any neighbors who may be affected.
Installing Fences In Minnesota
Twin Cities Fence, as a fence contractor will ensure that no obstacle stands in your way when installing a fence on or near your property boundary. We are familiar with the state laws governing property line fencing. Our team will mark your property lines using your land survey, and we'll install your fence correctly so you can enjoy your fence for many years. Call us at (612) 443-2948, or email contact@tcfmn.com to find the perfect privacy fence, ornamental fencing, or picket fence. Serving Andover and Anoka as well as Blaine, Coon Rapids Ham Lake, Spring Lake Park and other metro areas.