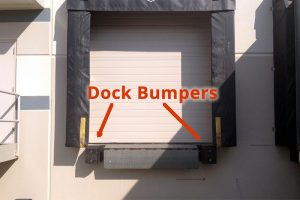 Businesses often need bumper guards as an extra safeguard. Bumper guards protect surfaces from being damaged should traffic be too aggressive. Twin Cities Fence can protect any surface on your commercial property from being hit by trailers turning too sharply, vehicles crashing into parking garage columns and walls, forklifts approaching too closely to warehouse walls, trailers turning too closely to load docks, forklifts coming too close to warehouse walls and more. We will ensure your property has the best impact protection available. Bumper guards are an ideal product to safeguard heavy traffic at commercial sites like loading docks, parking lots, service areas and industrial settings; additionally, they serve to safeguard personal properties as well. Protecting these areas with protective barriers is especially crucial if your business relies heavily on trailers. Let Twin Cities Fence make sure yours does!
Loading Dock Bumper Guards
Loading dock bumper guards are typically found along the inner walls of loading docks, where trailers need to be unloaded or loaded at warehouses, retail stores, supermarkets, or other commercial properties. They're an invaluable aid when trailers require unloading or loading in warehouses, retail stores, supermarkets, or other commercial properties. Trucks have been known to cause excessive friction with walls of loading docks when parking does not go according to plan, causing potential accidents. To protect it from this friction, install bumper guards.
Maximum-impact protection: High-impact bumpers are designed to absorb energy, so when forklifts or large vehicles such as heavy trailers use them, the impact is evenly dispersed within the bumper guard, protecting walls, and loading areas from any damaging impacts or abrasions. We will work with you to make sure that your bumpers meet safety standards and meet your specific requirements, whether that means heavy-duty bumpers in loading areas for trailers or high traffic zones.
Long-lasting guards: Due to their design, bumpers are subject to constant abuse from vehicles. Therefore, you need bumper guards which can withstand this constant abuse for several years, not months at most – that is what bumper guards were made for! Bumper guards in Minnesota should ideally withstand weather resistance for many years as an essential feature. They must endure both wet and freezing winter conditions as well as rainy days without disintegration, freezing, or weakening.
Contact Twin Cities Fence by calling (612) 443-1948 or emailing contact@tcfmn.com if you are seeking bumper guards to secure your commercial property. We can assist in selecting appropriate bumper guards suited for loading docks/warehouses/industrial property/service areas etc.