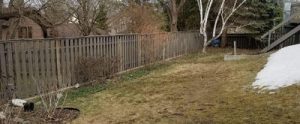 Your fence can take a considerable beating during Minnesota's often unpredictable winters, making springtime maintenance an absolute must. Your fencing is exposed to wind, rain and snow as well as unstable temperatures due to freeze-thaw cycles and underground shifts during this time, so it needs some TLC in order to look its best and remain sturdy long term. If your fence serves any safety or protection purposes, then this is about far more than aesthetics; getting started early on spring fence maintenance could even prevent potential emergencies down the line!
Winter in Minnesota can be particularly harsh on fence structures. While other parts of the US experience milder winters, Minnesota's climate has not always been kind to our northern neighbors. From strong winds to falling tree branches, your fence may have suffered some seasonal damage in the last six months due to Mother Nature's unpredictable nature.
Inspect Your Fence For Any Damaged Or Weakened Spots
Depending on how far your land stretches, walk, or drive along its entire length slowly and carefully while checking for damage. Make note of any larger problems which need professional repair; these should be noted so you can easily direct them towards necessary fixes. Rotten wood is often responsible for wood fence damage and should be addressed right away.
Giving Your Fence A Spring Cleaning
Fencing that has minor dirt or debris stuck to it from winter storms can easily be cleaned with a garden house. A power washer can be used for deeper stains, rust, or discoloration on different fence materials; just be sure you know how to use the power washer properly so as not to void its warranty if still under warranty. After washing, dry your fence thoroughly before repairing or painting it.
Professional Fence Inspection Repairs Or Replacement
Twin Cities Fence has been providing year-round fencing installation and repairs on all types of fences such as wood, ornamental metal, chain link, vinyl and Trex for over four decades. When you work with Twin Cities Fence you can be certain of receiving high quality work and the best customer service in the business. Give us a call at (612) 443-1948 or contact us online to request an estimate today!