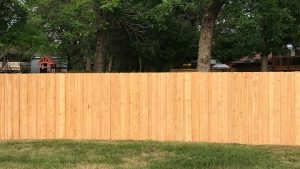 Fences are one of those home amenities that are a virtual requirement for many homeowners. With the popularity of dogs and other pets, many new homeowners list a fence as one of their must haves when it comes to purchasing or renting a new home. If you're a pet lover, or you're just looking for additional privacy, a wood privacy fence is an incredibly cost-effective way to provide you with a high quality fence that will stand up to years of Minnesota weather. At Twin Cities Fence, we're experienced in all types of fence installation projects, with wood privacy fences being one of our most popular options. At Twin Cities Fence, our experienced installers even install your new privacy fence in the winter!
Benefits Of A Wooden Privacy Fence
● Versatile styles: Thanks to a variety of different colors and textures, a wooden privacy fence can be built to meet your exact style. You can choose to have your wooden privacy fence blend in with the rest of your home or stand out as a focal point. You can also stain your fence at any time to give it a completely new look and style.
● Low Maintenance: Metal fences can become corroded and can even become galvanized if they are in contact with other metals, whereas the wooden privacy fence typically only needs annual staining to maintain its beautiful appearance.
● Simplicity: Wooden fences are traditional, and often bring back fond memories of a simpler time. Wooden privacy fences also tend to blend in and allow your landscape and garden areas to take center stage as opposed to a fence that unnaturally stands out.
Why Choose A Wooden Privacy Fence
Whether you're choosing a fence to contain your pets or children, or simply looking for a way to create a nice backdrop for your landscaped areas, a wooden privacy fence continues to be a popular choice among our customers. Privacy fences offer shade and protection, but still look natural and understated. Homeowners can choose to add additional decorative touches to a wood privacy fence such as lattice-topped fencing, shadowbox style, and much more!
Reach Out To Twin Cities Fence For A Free Estimate
At Twin Cities Fence, we install fences year-round. For more information on our wood privacy fence installation options, don't hesitate to call (612) 443-1948. Having decades of experience in installing all types of fences, we stand ready to tackle your project, big or small!