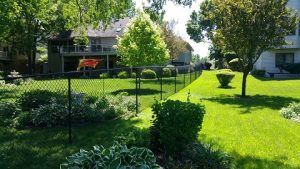 If you have lived in Minnesota for any length of time, you know that the weather can be brutal. Snow, ice, wind and extreme temperatures are common in the winter months and the summer can bring thunderstorms and intense heat. This weather can damage anything that is exposed for long periods of time including the exterior of your home, your vehicle and a fence. This is exactly why one of the most popular fencing options in this area is a simple, affordable and durable black chain link fence. It can withstand the harsh Minnesota weather without breaking down, rusting or corroding and requires very little, if any, maintenance. A black chain link fence can be installed on your residential or commercial property and can be built to the exact specifications of your property.
Twin Cities Black Chain Link Fence Contractor
The contractors at Twin Cities Fence have been installing black chain link fences in this area for more than four generations. We work all twelve months a year and know firsthand what the weather in this area can do to different types of fencing. This is why we very often recommend a black chain link fence for our clients. These fences are perfect for added safety and security for your property, to fence in a playground, sports field, define property lines for your small or large business or even your own backyard. A black chain link fence is a very sound investment in your property. The cost of installation is low, the cost of maintenance is minimal, and it will last for many years with very little weathering or damage.
Affordable Fencing Options That Are Ideal For Minnesota Weather
Each black chain link fence that we install is galvanized and hot-dipped in a protective zinc coating that is proven to prevent corrosion and rust. This is one of the main reasons that this type of fencing will last for so long with so little maintenance. So, if you are looking for an affordable and durable fencing option for your residential or commercial property, reach out to the contractors at Twin Cities Fence by phone (612-443-1948). We can help you determine your design and installation options and are also available for 24/7 repairs should you have a problem down the road. We are conveniently located in East Bethal, MN and are happy to serve clients all over the Twin Cities area.