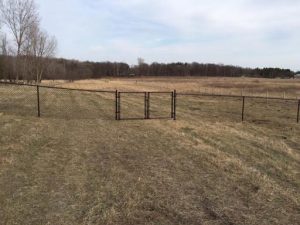 If you have decided it is time to add a fence to your residential property, it is now time to consider what type of fence would work best. Fortunately, you have many different materials to choose from and the staff at Twin Cities Fence is happy to help you choose the best match for your property. Because of the unpredictable Minnesota weather, you need to think about style, price AND durability. Here are some of our top picks for local residential fencing installations that look great, are affordable and will stand the test of time:
Vinyl Fence System: A vinyl fence can give you the look of a white wood picket fence but without the maintenance. There is nothing more classic than a home with a white picket fence, but unfortunately, wood just cannot always stand up to the elements. Over time, it can rot and break down, requiring significant maintenance. Vinyl gives you the look of wood, but is more durable and affordable, both at the time of installation as well as over the life of the fence.
Steel and Aluminum Ornamental Fencing: Another great option for a residential fence is a steel or aluminum ornamental fence. This fencing material gives you the look of a wrought iron fence, but again, without the long-term maintenance issues, rust and degradation. This fence can help your home stand out in your neighborhood.
Galvanized Steel and Color-Coated Chain Link Fences: A chain link fence may not come to mind when you think about a fence for your property, but it can provide security and privacy and be very flexible – you can fence in part of your property or the entire thing, whatever you need. This type of fencing is very affordable and is weather resistant, requiring little, if any, ongoing maintenance.
Professional Fencing Installation Contractors In The Twin Cities
Twin Cities Fence has been in the fencing installation business for more than forty years. We specialize in professional-grade fencing installation for residential and commercial properties all over the Minnesota area. In addition to fencing installation and repair, we also enjoy working with customers to choose the right fencing material for the job. We get to know our clients, understanding their goals and needs for the fence and can make recommendations that will work best. If you have questions or want to learn more about our fence installation services, give us a call at 612-443-1948.