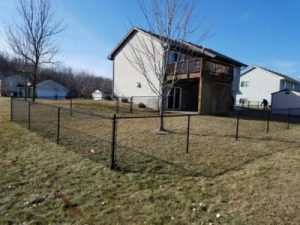 Adopting a puppy brings a lot of joy to a family but it does not come without a bit of work. Puppies need to be trained and to learn that they need to do their business outdoors. A fenced in yard can make the training process much easier for families, giving the puppy freedom to run without the concern that they may run away. If you are thinking about having a fence installed at your home to accommodate your new addition, you have many great choices. Here are the best fencing options for a puppy:
1. Vinyl Fence: In Minnesota, you will need a durable fence that can withstand the elements even when your puppy is not in your yard. Puppies are very good at finding even the smallest whole or vulnerable area in a fence. When you choose a vinyl fence, you can be confident that your new puppy will be safe in your yard and your fence will look good on your property and require very little maintenance. A vinyl fence is a strong and durable option and one of the benefits is that you can choose a style and color that will add aesthetic appeal to your property.
2. Metal Fencing: Metal fencing is another great option for residential properties in Minnesota. For homeowners looking for a fence that will keep their new puppy safe and not be damaged by the extreme Minnesota weather, aluminum, steel or even chain link fences are optimal. They will not rot like wood, and are affordable, will protect your property and will not require maintenance. The last thing that you want to worry about when you let your puppy out is that they can find a way out of your fenced area. With a metal fence, you will not have to worry about that.
3. Trex Fencing: Trex fencing is a new fencing option that will last for at least 25 years. It is made of 95% recycled board (including plastic and wood fibers) making it a very eco-friendly fencing option. Trex fencing gives you a natural look, but you do not have to worry about the problems of wood.
Fencing Your Yard For A Puppy
Twin Cities Fence can help you design and install the perfect fence for your property. If you have a new puppy or are planning to get one soon, now is a great time to reach out. Give us a call at 612-443-1948 for a free estimate!