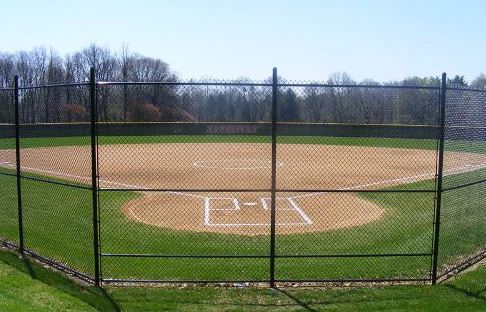 Looking for baseball field fence options to transform your current field into one that will make for great baseball and a stronger feeling of community. Baseball Fencing provides safety and Keeps games on schedule by establish boundaries, keeping control of teams and Spectators on and off the field as the game is played. No waiting for chased balls. Protecting everyone when baseballs and softballs go airborne.
Most Popular Baseball Field Fencing Choice
Most baseball field fences are chain-link fences, typically made from either gray galvanized steel chain link fencing or colored, PVC coated chain link fences. In addition to these traditional options, we also offer other options which can give your field a different look, create greater security, or longer term durability. Our crew can install a baseball fence that meets you needs from any of the following materials:
Chain-link fencing: Chain-link fencing is a solid, reliable baseball field fence choice. A nice upgrade to the very familiar galvanized steel chain-link fencing is a colored version that's PVC-coated. This option is a bit more durable than the galvanized steel option, and the different PVC colors add a complementary dimension to your field.
Vinyl fencing: Vinyl is durable and weather resistant. If you favor using vinyl, we recommend using a vinyl post and rail fencing for your baseball field.
Wood: Not all wood fencing options are right for baseball fields, but you may find it appealing to accent the areas around your field with wood fences.
Aluminum fencing: Aluminum is considered a good option for adding a more ornamental feel to your baseball field. The strength-to-weight ratio of aluminum offers a security to your fencing system too.
Steel: Steel is heavier, stronger, and more secure than most other materials. It is similar to using aluminum, but provides the added benefit of steel's strength.
Trex Fencing: Trex is considered more eco-friendly, and is both lower maintenance and weather resistant than wood. Many people are choosing Trex fencing as an alternative to both wood and vinyl fencing options. If you want a more "green" option, Trex fencing may be your best bet.
Baseball Field Installation Companies, Mn
Lots of people talk about the decreasing popularity of baseball, but that certainly does not seem to be the case each summer when the Little League World Series preempts so much of ESPN's programming. The truth is that Little League and youth baseball participation is rising once again. It's a great way to not only renew our country's love of baseball, but to build stronger communities around an athletic event. When a community has an appealing baseball field, or larger baseball complex, attendance will increase further when the fields on which the game is played are well maintained and visually appealing.
Local Fence Installation Company
Twin Cities Fence can help strengthen your community by installing a fence around your baseball fields. Call our crew at 612-443-1948 to learn more about the many options Twin Cities Fence offers in baseball field fencing material and colors.