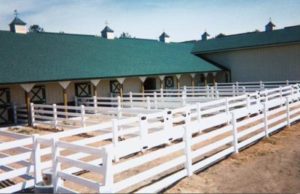 Fencing is a very important part of a ranch. Some farmers need a fence to keep their livestock in one place, while others use a fence to separate the livestock from eating crops that are being grown on the ranch. If your MN ranch has a lot of expensive equipment that needs to be secured and protected, investing in a fence is a great option. When it comes to choosing a ranch style fence for your MN property, our team at Twin Cities Fence has plenty of options to consider. We can get you the look of a country fence while still providing you with the durability and security needed to protect your ranch.
Ranch Style Fencing Options
Our most popular ranch style fence is without a doubt a split rail fence. This is what most people think of when they envision a ranch style fence on their property. Once you choose to invest in a split rail fence for your ranch, then you must decide on what type of material to use. A few of our most common materials used for our ranch style fences include:
Wooden Ranch Style Fencing – If you are trying to achieve the traditional look of a post and rail fence, using wood is ideal. Some of the great things about utilizing wood for your ranch style fence is that it is affordable and easy to repair. On the other hand, wooden fences are not as strong as other materials that our team can provide. Wooden fences can warp and breakdown over time, especially due to the tough MN weather that we experience throughout the year.
Vinyl Ranch Style Fencing – Vinyl post and rail fences are becoming more popular because they can achieve the same look of a wooden post and rail fence, while lasting longer. A vinyl fence will keep its color well, is rust free and requires little to no maintenance. The only drawbacks of investing in a vinyl ranch style fence is that they are more expensive and are susceptible to damage from heavy hail storms or from your livestock.
If you are ready to commit to investing in a ranch style fence for your property in MN, choosing to partner with our team at Twin Cities Fence is a great decision. We know how important your livestock is to your ranch. Take some time to sit down with our ranch style fencing professionals and share your needs with our staff. From there, we will work together to determine the best ranch style fence for your property. Offering free estimates, give us a call today at (612) 443-1948.