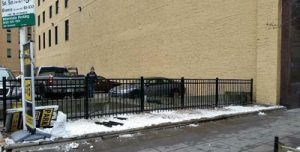 You may think that winter is not the best time to have a fence installed. While it can be a challenge to plan around winter weather, Twin Cities Fence has been installing fences in the Andover, Minnesota area for more than forty years. We install residential and commercial fences in many different sizes using a wide variety of materials depending on your specific needs. When you partner with a company and make an investment in something for your property like a fence, you want to be sure that the company is reputable, completes high quality work and can help should you need repair services down the road. This is where Twin Cities Fence sets itself apart from other local fencing companies.
Twin Cities Residential And Commercial Fencing Contractor
Many local fencing companies only serve customers during the warmer months. However, we have found that our customers have fencing needs all year round. Winter weather can be especially problematic for older fences, so we are often called for repair services during the winter months. In addition, however, we can offer free estimates and complete entire fence installation projects all year round as well. You can choose between a large variety of fencing materials including vinyl, aluminum, chain link, steel, wood and trex fencing.
Our team can answer all of your questions about what type of fence would work best for your property so that you can be confident in your final choice. We also can help you decide what style will match your home's aesthetics. We also have experience installing privacy fences, sport court fences, guardrails, and even indoor fencing. Form, function and a professional and affordable installation is what you will receive when you work with Twin Cities Fence. We also always stand behind our work and if something is not working right or you need a repair down the road, we will be there for you. So, no matter whether you want a fence to add a layer of security for your property, you want privacy, or you want to provide a safe and contained area for kids to play and pets to run, Twin Cities Fence would love to partner with you.
Year-Round Fence Installation And Repair
For more information about our year-round fencing installation and repair services, give our team a call at 612-443-1948 to schedule a time for us to provide you with a free estimate!