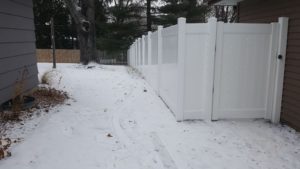 Hey! Guess what we aren't doing this winter and every single day after that? Slowing down! At Twin Cities Fence, we provide year round fencing installation and happy smiles to our satisfied customers no matter what time of year it is. When you need a fence, it doesn't really matter what the weather is doing! Twin Cities Fence is happy to provide Minnesota with all of their fence installation needs.
Winter Fence Installation Professionals
Over four generations of fencing installation and repairs, our company has been around the block a time or two. We install and repair fences of all shapes, sizes and needs. From residential to commercial properties throughout Minnesota, Twin Cities Fence has been there for it all. Come rain, sleet, or snow, the professionals at Twin Cities Fence can get the job done. We fully expect our fences to handle unfair weather, so why shouldn't we?
Vinyl Fence Systems
Vinyl fence systems are extremely ideal in Minnesota and known for being strong and durable. They stand their ground in the midst of a stormy winter and continue to look great throughout the year with very little maintenance. Not only are vinyl fences cosmetically appealing , they can also serve a multitude of purposes. Vinyl fencing comes in a variety of different styles. Great for privacy fencing and blocking off restricted areas for business owners or private homes.  Also provides shade and protection from harsh winds. It's been known to decrease the amount of noise coming in and out of your property.
Contemporary vinyl picket fences is popular in Minnesota suburbs. Aesthetically pleasing , vinyl fence encloses animals and kids into the yard, delineates property lines, and gives your home the "American Dream" feel. Ornamental vinyl fences are also another way to make your property functional and beautiful at the same time. Many of our ornamental fences can be accompanied with matching gates and post cap designs, allowing your home to be the most unique on the block.
No matter what type of vinyl fence you choose, Twin Cities Fence is your preferred winter vinyl fence installer for Minnesota. We are open all year long and we are ready to get your property feeling functional and looking better than ever. For more information about winter vinyl fence installation or winter installation, give Twin Cities Fence a call today at 612-443-1948.