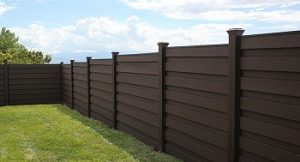 Creating an outdoor sanctuary that combines aesthetics, durability, and low maintenance is a dream many homeowners share. Look no further than Trex fencing, the unrivaled solution that's capturing the hearts of Minnesota's Twin Cities. In this blog post, we're excited to introduce you to the world of Trex fencing and how Twin Cities Fence can transform your outdoor living space.
Trex fencing is more than just a pretty face; it's an eco-friendly choice that aligns with the environmentally conscious values of the Twin Cities. Crafted from a blend of reclaimed wood and recycled plastic, Trex materials are a testament to sustainable innovation. By choosing Trex fencing, you're contributing to a greener world while enhancing your property.
Trex Fencing Benefits
Trex fencing boasts an uncanny ability to mimic the look of natural wood. The exquisite wood-grain patterns and rich colors add an authentic touch to your outdoor space without the hassle of regular maintenance that real wood demands. With Trex, you get the best of both worlds – the beauty of wood without the constant upkeep.
Eco Friendly Fence
Minnesota's ever-changing weather patterns demand a fencing solution that can withstand the elements. Trex fencing steps up to the challenge with its exceptional durability. Rain, snow, sun – you name it, and Trex can handle it. Say goodbye to warping, fading, and splintering – Trex fencing maintains its elegance and structural integrity for years to come.
Low Maintenance High Enjoyment Fencing Options
Twin Cities homeowners are no strangers to busy schedules. Trex fencing understands this and offers a low-maintenance solution that lets you spend more time enjoying your outdoor space and less time maintaining it. Forget about staining, painting, or sealing – a simple rinse with a garden hose is all it takes to keep your Trex fence looking its best.
Twin Cities Trex Fencing Expert
When it comes to Trex fencing in the Twin Cities, Twin Cities Fence is your trusted partner. Our experienced team understands the unique needs of Minnesota homeowners and provides expert installation that ensures the beauty and functionality of your Trex fence. We're committed to delivering results that exceed your expectations, turning your outdoor vision into reality.
Ready to elevate your outdoor living space with the charm and durability of Trex fencing? Contact Twin Cities Fence today to explore your options and discover how Trex can transform your property. Experience the best of both worlds – timeless aesthetics and modern convenience – with Trex fencing by Twin Cities Fence.