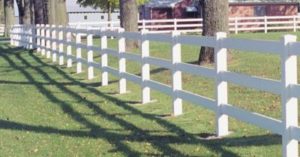 One of the many benefits of living in the beautiful state of Minnesota is that you have access to large tracts of land. If you are interested in farming or are just looking to create the rustic feel of a farm on your property, a fence can go a long way to help you achieve that goal. Twin Cities Fence can help you design and install the perfect fence for your MN property. We specialize in ranch style fences. A split rail fence is sturdy, durable, easy to repair and highly functional for protecting livestock, or separating your livestock from crops or other animals.
Wood Or Vinyl Ranch Style Fence
If you decide to install a ranch style fence on your property, you will need to determine what type of fence to build. Generally, your two most popular choices for this type of fence are wood and vinyl. Wood is often traditionally thought of as the "go-to" for ranch style fencing, as it offers the rustic, traditional farm look, is affordable, and fairly easy to repair and replace should the need arise. Wood fences are extremely functional, keeping any livestock you have where you need them and serving as a very clear dividing line for property. You should keep in mind, however, that the harsh Minnesota winters can be hard on wood fences, and wood can rot and warp over time.
Vinyl ranch style fences may be a bit more expensive, but they do offer some benefits to be considered. Vinyl post and rail fences have become popular in the Minnesota area because they last longer and are more weather resistant. They are rust free and do not decompose or rot over time. Vinyl fences are extremely low maintenance and also look very nice on a farm or ranch setting.
MN Fence Installation and Repair
The team at Twin Cities Fence can sit down with you and help you determine the best fence for your property, given any constraints that you might have regarding size, price, and overall look. In addition, we will be very open about the costs and time frame associated with a fence project and we always strive to meet your goals. We have been installing and repairing fences in the Minnesota area for more than forty years and have built a reputation for high quality work, strong customer service and competitive pricing. For more information about fencing options or to have a member of our team come out to take a look at a fence that needs to be repaired, call 612-443-1948.