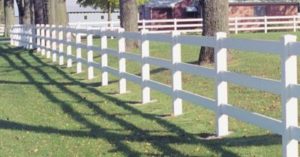 Fences serve many important purposes. The most obvious one is that they mark boundaries between properties. They also offer security against intruders and keep your children and animals safe and protected when they are outside. Whatever the reason you have fencing on your property, you can be certain of at least one thing: if the fencing on your property is installed by Twin Cities Fence, it will be installed properly and to your satisfaction.
Twin Cities Fence installs all types of fencing including farm and ranch fencing. Minnesota, for all its growth, development, and cosmopolitanism, still has a substantial amount of farm and ranch land. Functioning ranches use fencing most often to keep livestock contained on the ranch and predators off of it. For that fencing to serve its purpose, it needs to be installed professionally and reliably. Twin Cities Fencing has built a reputation based on our professionalism, reliability and high quality workmanship. The material you choose for your ranch fencing, when installed by our staff, ensures it will perform to its maximum potential.
Wood or Vinyl for my Ranch Fence?
When we think of ranch fencing, we first think of post-and-rail fences. They serve the purposes needed by ranch owners and provide long-term stability. While wood offers many good qualities for ranch fencing, it does have its limitations. Over time, wood will rot and become unstable. This is often made worse in our area by Minnesota's legendary weather extremes. Consequently, for the greatest combination of functionality and durability, you may want to consider vinyl fencing for your ranch fence, which gives you the look of traditional ranch fencing with greater lasting value.
All fencing materials have advantages and disadvantages. The fences on your ranch perform many important functions. Accidents, weather, and unforeseen events do happen that sometimes requires a fence repair. If your fence is damaged by farm machinery or livestock, our team will certainly be able to fix it, no matter what it is made of. However, when it comes to ranch fence installation, we want you to know upfront that vinyl fencing will last longer than wood fencing, require less maintenance, but may be a more expensive initial investment.
Experienced Ranch Fence Installation Company
We share this information because we want our customers to know that we aim for complete transparency when it comes to working with you. Providing a full picture of what you can expect from the material you choose for the fencing on your ranch is part of what creates trust from our many repeat customers. If you have questions about materials, installation, or any other aspect of ranch fencing, or would like a free quote, give Twin Cities Fence a call at 612-443-1948. We look forward to working with you!