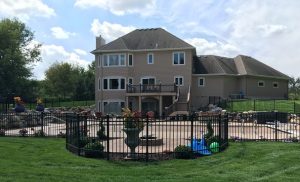 When it comes to upgrading your property's security, privacy, and aesthetic appeal, few investments offer as many benefits as a well-designed and professionally installed fence. If you reside in the Twin Cities area of Minnesota, you're in luck! Twin Cities Fence is here to provide you with top-notch fencing installation services. With their expertise and commitment to customer satisfaction, your property will not only gain an extra layer of protection but also a touch of elegance.
Unparalleled Expertise In Fence Installation
Twin Cities Fence brings years of experience and knowledge to every fencing project they undertake. Their team of skilled professionals understands the unique challenges and requirements of the Twin Cities area, ensuring that your fence is not only attractive but also built to withstand the region's diverse weather conditions. Whether you're looking for a classic wooden fence, a sturdy chain-link fence, or an elegant ornamental iron fence, their expertise will ensure a seamless installation process.
Customized solutions: Every property is unique, and Twin Cities Fence understands the importance of tailoring their services to meet your specific needs. They take the time to understand your goals, preferences, and budget constraints, working closely with you to design and implement a fencing solution that perfectly complements your property. Whether you need a fence for your residential, commercial, or industrial property, they have the expertise to deliver exceptional results.
Quality materials: Twin Cities Fence believes that durability and quality should never be compromised. They source their materials from trusted suppliers, ensuring that your fence stands the test of time. Whether you choose a classic wood fence that adds warmth and charm to your backyard or a low-maintenance vinyl fence that requires minimal upkeep, rest assured that Twin Cities Fence will provide you with the finest materials available.
Timely and efficient service: Installing a fence can be disruptive, and Twin Cities Fence understands the importance of minimizing any inconvenience to your daily routine. Their team works efficiently, adhering to strict timelines without compromising the quality of their work. From the initial consultation to the final installation, they strive to complete your project in a timely manner, allowing you to enjoy the benefits of your new fence as soon as possible.
Excellent customer satisfaction: Twin Cities Fence takes pride in their exceptional customer service. They prioritize open communication, actively listening to your concerns and addressing any questions you may have. Their friendly and professional team is dedicated to providing you with a stress-free experience, ensuring that you are completely satisfied with the result.
Twin Cities Fencing Contractor
Investing in a professionally installed fence by Twin Cities Fence is a decision that brings countless benefits to your property. With their expertise, customized solutions, quality materials, efficient service, and commitment to customer satisfaction, you can trust them to enhance your property's security and aesthetic appeal. Don't wait any longer – contact Twin Cities Fence today and transform your property into a secure and beautiful space that you'll love for years to come.