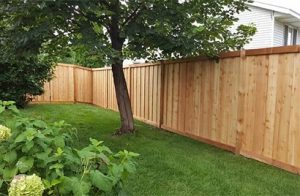 Fencing in your yard can be a great way to achieve some lawn privacy, as well as establish where your property ends, and your neighbors begins. As you may know, there tend to be a lot of rules and restrictions to fence building, no matter where you might live – not to mention neighbor concerns. So, what's generally allowed and what isn't?
In many places, there are rules and restrictions that dictate whether you can put up a fence around your yard — and what it should look like if you are allowed to do so. Fence law is typically a localized regulation, meaning it will probably vary significantly based on zoning. Your local government, usually at the city or county level, can tell you the details of your area's rules surrounding fences. Your local government or even homeowners' association (HOA) may have regulations you must follow regarding who owns a fence between two properties, what a fence must look like, how close it can be to property lines, fence height limitations, etc. You might also need permission from local authorities to put up a fence in the first place.
How Close To The Property Line Can I Build A Fence?
Fences are typically built between 2 and 8 inches from the line between properties. Some areas will allow the building of fences directly on the property line, but in this case, you'll have to cooperate with your neighbor and potentially share the cost of the fence. To find out exactly how close to the property line you can build a fence, contact city hall or a local building inspector.
Responsibilities For Fences On The Property Line
When a fence is built on a property line, it is usually the responsibility of the homeowners on both sides, unless they negotiate otherwise. That said, when fence repairs are needed, both property owners should be responsible for paying, and if one refuses, the other can take legal action if needed – depending on the local fence laws, of course. Check with your local government for clarification on your neighborhood's specific rules surrounding property line fences. This being said, keep good lines of communication open between any affected neighbors to ensure peace is maintained.
Professional Fence Installers In Minnesota
As a fence contractor, will help ensure that nothing stands in the way of installing a new fence, even if it is on or close to your property line. We know the ins and outs of state property line fence laws. We will be able to mark property lines based on your land survey and install your fence properly so once it is erected, you can enjoy it for years to come. Contact us today at (612) 443-1948 or contact@tcfmn.com, and find the right privacy fence, ornamental fence, or contemporary picket fence for you. Serving Andover, Anoka, Blaine, Coon Rapids, Ham Lake, Spring Lake Park, and surrounding metro cities.