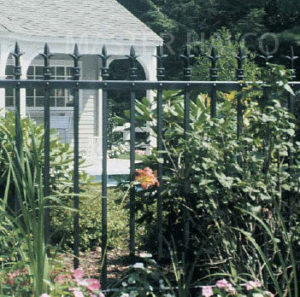 Have you been hesitant to invest in a fence in fear that it will take away from the look of your beautiful home? At Twin Cities Fence, we understand that fear and we're here to help you change that mindset. Our fencing experts have a passion for providing homeowners in the Minnetonka, Maple Grove and Plymouth, MN areas with ornamental fencing that can bring the perfect accent to your home. In fact, our fences can even boost the value of your home as more and more individuals are in search of homes on the market with fences.
Ornamental Fencing Options
By choosing ornamental fencing, you get the best of both worlds when it comes to protection and beauty. At Twin Cities Fence, our ornamental fences are built to last. Your property will hold up just fine against anything mother nature throws your way. When it comes to the look of your ornamental fence, don't be surprised when your neighbors stop by asking about how they can get one as well! Our fencing professionals offer ornamental fencing in multiple options, including:
Aluminum Ornamental Fencing – Going with an aluminum ornamental fence will provide you with a long lasting fence that can withstand the tough Minnesota weather. We offer a wide range of aluminum styles, depending on the look you are trying to achieve.
Steel Ornamental Fencing – Iron fencing isn't common these days, however a steel ornamental fence can give you that exact same wrought iron look. The difference is that our galvanized steel ornamental fences are way more durable than the old wrought iron fences. By choosing steel, you can rest easy at night knowing that you don't have to worry about your ornamental fence rusting or experiencing corrosion issues.
Customer Focused Fencing Services
At Twin Cities Fence, we value your opinion. The last thing that we want to do is create a fence that doesn't achieve the look you desire. That is why we take the time upfront to sit with our customers and understand what they truly are looking for in a fence. Once the design has been chosen, our experience, high quality materials and attention to detail allow us to provide elite installation services. To top it off, we offer 24 hour emergency fence repairs should your ornamental fence ever become damaged.
If you are looking for a fencing contractor around Minnetonka, Maple Grove or Plymouth, MN that specializes in ornamental fencing, look no further than our staff at Twin Cities Fence. To learn more about our fencing services, give us a call today at (612) 443-1948.