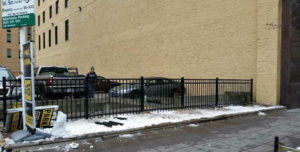 In the winter, some people think that all outside work stops. The hail and snow set in, and people duck and cover until spring arrives. Like it or not, though, we're around all year to make sure any and all fencing repair needs are met. We don't take the season off and jump back in once warmer weather hits. We're out even in the cold to make sure business owners and home owners alike have fences that are keeping their properties secured. For Minnesota winter fence repair in the Twin Cities, Twin Cities Fence is here for storm-damaged fence repairs and 24-hour emergency fence repairs.
Winter 24-Hour Fence Repairs
As year-round fencing contractors, we take pride in our commitment to being there whenever you need us. Whether it's the dead of night in summer or the dead of winter, we're here to make sure your home or business is secure and maintained. It's not always a matter of necessity to have a fence fixed, but when it is, we want to make sure you aren't struggling to make do with a broken fence. Instead, call us for 24/7 emergency  MN winter fence repairs, and we'll get your business running smoothly or your home secure again in no time.
Insurance-Approved Storm-Damaged Fence Repair
Have you ever had to deal with insurance agents after a storm? They're not the easiest people to talk to on their best days, but when a storm rolls through, they're much more impatient. They want to get through as many calls as possible, sometimes without giving property owners the compensation they deserve. We want to make sure you get the insurance-covered fence repairs you deserve, and we'll work with insurance companies to make that happen.
Benefits of Winter Fence Repairs
It might seem strange to think about making repairs on your property in the middle of winter, but what better time is there to do it? In the spring, when everyone else is having their fences installed and repaired? In the summer, when it's the best time to be outside, but you'll have contractors on your property? To us, it seems that the best time for fence repairs might just be the winter! We're the least busy we'll be all year, and that means more time to dedicate to you! Adding to that, once spring is here, you can go outside and enjoy your fence without worrying about getting repairs finished first.
MN Winter Fence Repair Experts
We know what homeowners and business owners worry about when finding fencing contractors. We understand that trusting contractors is hard! But after four generations of contracting, Twin Cities Fence is a name you can trust. Our experts are here to make sure that if you need Minnesota winter fence repair, you get only the best. Call us today at 612-443-1948 for fencing repair service that can't be beat.