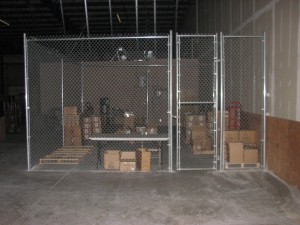 While we may be best known for installing outdoor fences, our team can also install and repair indoor fences in the Minnesota area. Twin Cities Fence has experience installing fencing for indoor sports courts, fencing for indoor swimming pools, indoor hotel courtyards, as well as storage facilities and dog kennels. There are countless reasons a business may need to enclose an indoor area. We offer many different choices when it comes to indoor fencing materials including wood, vinyl, chain link, aluminum, trex and steel.
Indoor Fence Design And Installation
Twin Cities Fence has partnered with schools, hotels, small and large local businesses as well as homeowners to install indoor fencing. In most cases, fencing is added indoors for an increased level of security and safety, and/or to keep an area secure. Indoor fences can be decorative, functional, eco-friendly, colorful, or modern. If you are not sure what type of indoor fence to choose, our staff will listen to your needs, your budgetary restrictions and your timeline for completion and provide you with the best possible recommendation to meet all of your needs.
Unlike many fencing companies, Twin Cities Fence works twelve months a year so we can help you design and install your indoor fence whenever you are ready. We can install any size you need – from a small indoor fenced area to a large one that adds security and privacy. We use only high-quality materials and you will find our pricing to be very competitive. When you work with us, you will also receive top notch customer service and a true partner in the project. This partnership does not end when the indoor fence is complete. We can help you with maintenance and even repair down the road. We even offer our fencing repair services 24/7 because we realize that your fence may need to be repaired ASAP. This can be particularly important for an indoor fence.
Indoor Fence Installation Specialists
Twin Cities Fence have been in the fencing business for more than forty years and have become a part of the Andover, MN community. Our experienced staff can install and repair indoor and outdoor fencing, gates and other residential and commercial fixtures all over the Twin Cities area. If you are looking to add an indoor fence to your property, business or facility, give our team a call at 612-443-1948 and we will be happy to help!