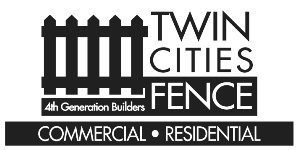 When you saw the phrase "Indoor Commercial Fence," you may have wondered who puts a fence indoors? The answer is many people. While not many people put fences in their homes, fences are a necessity for some businesses. Twin Cities Fence is perhaps best known for our more visible outdoor projects. We have installed high quality fences with professionalism all over this area and in full view of visitors to those locations.
Materials Used for Indoor Fences
Indoor fences do not receive the same visibility, but it is just as important that their installation is of the same high quality as the fences we install outdoors. If you have thought about installing an indoor fence in your business or even in your home, you may want to know what kind of material we use for such fences. Below is a list of the most frequently employed materials for indoor fencing:
▪ Wood Fencing
▪ Vinyl Fencing
▪ Chain Link Fencing
▪ Aluminum Fencing
▪ Steel Fencing
We also offer Trex Fencing, which is our choice for most eco-friendly fencing. It looks like wood, and is known for its durability.
Common Uses for Indoor Fencing:
● Indoor Sports & Courts Fencing: If you own or operate an indoor tennis court, baseball facility, or large gym with multiple courts that require separation, we can install fencing that provides increased safety and security.
● Gymnasium Fencing: Access to gymnasiums is often a concern for the owners. An indoor fence can help to guarantee that only people who are given authorization to use your gym can access it.
● Fencing for Indoor Swimming Pools: Indoor fencing can be helpful if you need to limit access to an indoor swimming pool, but you do not want to or cannot afford to build an entirely new room. Pools that are not properly secured pose liability risks for owners, so indoor fencing can go a long way toward ensuring only authorized access.
● Indoor Fencing for Animals: Animal Control departments, veterinary clinics, and pet hotels lead the list of places that can benefit from indoor fencing when animals are involved. We can build and install fencing that helps keep animals safe and secure, and which also protects the staff who work with and care for the animals. We can even install indoor animal fencing in residential structures.
● Warehouse Fencing: Many, perhaps even most, companies with large inventories cannot store their products outside. Materials kept in warehouses are better organized when separated by indoor fencing.
● Indoor Factories: Like warehouses, factories can also benefit from indoor fencing, which helps organize common areas from restricted or more dangerous areas. We can install fencing that not only organizes your factory space better, but which helps maintain security.
Contact Twin Cities Fence by calling 612-443-1948 and we can give you an estimate for an indoor fence.