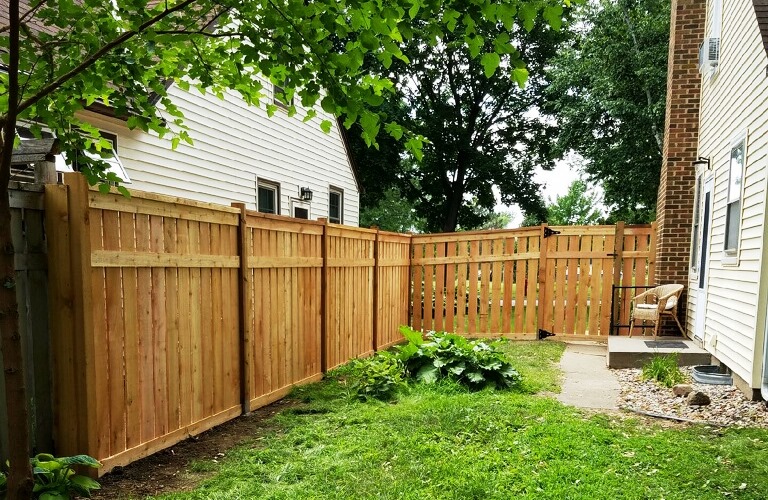 If you do not work in the fence industry, you may wonder how much variety there can be in fencing.  And that is a fair question if you have not recently been in the market for a new fence. Twin Cities Fence Company has several fencing varieties.  If you find yourself wanting to upgrade a property by adding a new fence, however, you will become quickly aware of just how much variety in fencing is available to you.  Twin Cities Fence is known not only for providing a wide variety of fencing options, but also for being a great company to work with.  We like fencing and we love our customers!
Fencing Options to Meet Your Needs
You can probably narrow your fencing choices to a more manageable number by first determining what purpose your fence will serve.  For example, if the property is residential, you may want a more decorative style of fence. If security is an issue for your residential property, a combination of strength and esthetic appeal may steer you in a different direction. If you are considering a new fence for a commercial or industrial property, the function of the fence may take precedence over its appearance. Or, you may want to increase the visual appeal of your business by installing a more aesthetically appealing fence.  Our team can help you decide what fencing option is best for your needs and your property.
Not only are there many different styles of fencing, there are many different materials to choose from.  And Twin Cities Fence offers what may be the widest variety of fencing options available.  Some of our choices include the following:
Vinyl: This is a great choice for people who want an ornamental fence that is also durable and virtually maintenance-free.
Galvanized Steel Chain-link Fencing: This is a common choice for businesses that want to secure their property. It offers great strength and durability.
Color-coated Chain-link Fencing: This is a great choice for athletic fields.
Cedar Wood Fencing: This style is ideal for custom-fence installation, and offers a nice, warm appearance.
Steel Ornamental Fencing: An ideal choice for those looking for a weather-resistant fencing choice.
Aluminum Ornamental Fencing: Another good weather-resistant choice, aluminum fencing that is a more affordable option than steel, but still provides durability.
Experienced Local Twin Cities Fencing Company
No matter what kind of fencing you decide to install, we guarantee that our installation process will be done well. We are happy to talk you through the many choices we offer.  If you would like more information about fence varieties, give us a call us at 612-443-1948.