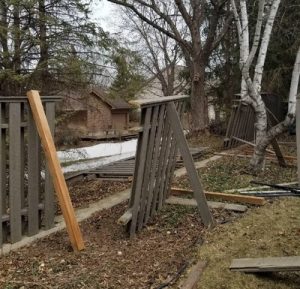 If your fencing structure—whether residential or commercial—has suffered damage to one or more sections, Twin Cities Fence is ready to complete the repairs and return the fence to its original level of functionality. Just like you do not need to replace your entire vehicle when it has one issue, you do not need to replace your fence if you have one damaged area. Twin Cities Fence is a trusted and reliable fencing company that offers fence section repair and replacement, which limits the costs of the process. We have built our fencing company on the idea that the best way to build loyalty among customers is to do excellent work. However, even the best constructed residential or commercial fence will need repair at some point as it meets Minnesota's greater forces, such as extremely high winds, a fallen tree, or an automobile that strays off the road.
Repairing a Damaged Section of Fencing
We have worked hard to establish our business as one that our customers can trust. That process begins with two commitments to a business model based on honesty and to learning the craft of fence construction. Those two pillars allow us to make the kind of claims about the quality of our work and our commitment to providing our customers with the best customer service that many of our competitors simply cannot.
We construct our fences to provide both security and aesthetic appeal, but we understand that every fence has some degree of vulnerability. Section repair of residential fences is actually quite common. The need most often arises from the fence doing its job of protecting your property but being pushed beyond its structural limits by something as forceful as a strong storm or a large, heavy tree branch falling on it.
Fence Section Repair and Replacement in Minnesota
It is also possible that very well constructed fences can need section repair because of rotting. If the fence was well-constructed, rotting has most likely set in because of the amount of time that has passed, making a certain degree of rotting inevitable. As strong and expertly crafted as a Twin Cities Fence may be, the forces of nature and time will always be stronger.
If your fence has suffered damage from a storm or fallen tree branch, Twin Cities Fence has the staff and the expertise to repair the damaged section. We can complete all types of repairs, small or large and will match the replacement area to your existing fence so that you cannot even tell that the repair was done. For more information or to request a free estimate, call us at 612-443-1948.