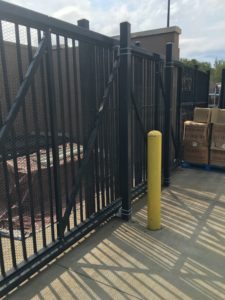 If you're looking for a Minneapolis, MN fencing contractor, Twin Cities Fence should be your first option for affordability, reliability, and professionalism. Our fencing repair specialists are also expert fence installers, which means that we deal with much larger projects than simple fencing repairs on a daily basis. We're also used to working with a wide variety of fencing materials, which means that we're prepared for any fencing mishaps you might throw our way, able to fix just about any fencing or gate problem you have. As a fourth generation building company, you can bet that we have the years of experience needed to become expert fence repair contractors, and we make sure that our fencing repair services are nothing less than our best work, every time. At Twin Cities Fence, we want to be both a residential and commercial Minneapolis fencing repair company that will not only meet your needs but exceed your expectations.
Fence Repairs for Any Fencing Material
One of the many benefits of hiring Twin Cities Fence for all of your fence repair needs is that we're equipped to repair fences made of a large variety of materials and styles. We aren't a specialist shop, only installing and repairing wood fencing, and that means that we can keep our prices reasonable by working with a larger client base. We do make wood fence repairs, but we also make vinyl fencing repairs, chain link fence repairs, and even aluminum and steel fencing repairs. With all of these materials come different challenges, and necessary experiences and equipment that differs from one fencing material to another, and we are one of the few fencing contractors who can say that we're equipped and experienced enough to deal with each and every one of these materials, whether you're looking for fencing or gate repairs. Because of this, you can have peace of mind knowing that, when you call us, we'll be at your home to offer you the best deal possible, the best materials available, and the best overall fencing repair service you'll find.
24-Hour Fence Repairs
At Twin Cities Fence, we understand that not all fencing repairs are expected or planned; sometimes, even a perfectly good fence can need fencing or gate repairs without any warning. That's why we offer 24-hour emergency fencing repairs all year round. Especially living Minnesota, Minneapolis home and business owners tend to face rough winter weather, hail storms, wind storms, and other harsh weather that can threaten the stability of fencing systems. If you find yourself with a storm-damaged fence, or even just a fence that seems to have broken down unexpectedly, we'll be at your home or business in no time to make the necessary fencing repairs, ensuring that your fence looks good as new, returned to its sturdy and durable state. To schedule fencing repairs, or if you're in need of emergency fencing repairs, contact us today at 612-443-1948 or contact@tcfmn.com to receive a free fence repair estimate.