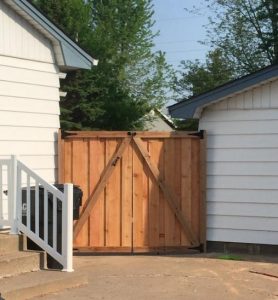 Looking for a fence contractor close to me in the Blaine, Minnesota area? Well, the team at Twin Cities Fence has been in business in the area for four generations, offering all types of fencing installation options for both residential and commercial customers. Commercial and residential fencing installation is much more complex than you may think and it's best to leave this type of project to the professionals to ensure your new fence will last for many years to come.
Fencing Installation Options
You have quite a few options when it comes to a new fence. At Twin Cities Fence, we regularly install the following types of fencing all year around…yes even in the winter:
• Vinyl Fences
• Cedar Wood Fences
• Chain Link Fences
• Steel Ornamental Fencing
• Aluminum Ornamental Fencing
• Privacy Fences
• Gate System Installation
• Wrought Iron Handrails
• Bumper Guards for Commercial Properties
• Guardrail Installation
As you can see, thanks to our decades of experience in the fencing installation arena, we're well versed in all types of fencing materials. Should you be interested in a type of fencing material not listed above, feel free to reach out to our team and chances are we'll be able to help you with your project.
Why Hire a Professional Fencing Installation Contractor?
You may think that you can DIY a fence project, and sure maybe you can, but the question is whether the finished product will be something that you're proud of? If you'd rather spend time with friends or family during the next few weekends when you'd be working on this fencing project, why not hire a professional fencing installation contractor like Twin Cities Fence? There are countless reasons why it likely makes sense to hire a professional company to handle your next fencing installation project, a few of which include:
• Saves Time – At Twin Cities Fence, we install fences each and every day. This means we know all the tricks to ensure your fence is installed properly and quickly. This way your fence can be finished much faster than if you tried to do it yourself.
• Increase Your Property Value – A professionally installed fence can boost the value of your property. A well built fence will increase the curb appeal of your home, which can translate into more money should you ever decide to sell it.
• Save Money – A professional fence installation company will bring professional grade tools and materials to ensure your fence is installed efficiently and securely.
Get a Fence Installation Quote Today
If you're interested in a free fencing installation quote, don't hesitate to reach out to our team today by phone at 612-443-1948.