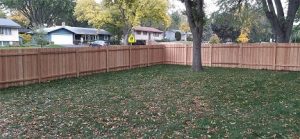 Are you looking to elevate the aesthetic appeal and security of your property? Look no further than Twin Cities Fence, your trusted partner for top-quality fencing solutions in the Minneapolis-St. Paul metropolitan area. With our expertise and commitment to customer satisfaction, we provide exceptional fencing installations that combine functionality, style, and durability. Whether you're looking to enhance the privacy of your backyard, secure your commercial property, or add a touch of elegance to your home's exterior, Twin Cities Fence has the perfect solution for you.
Unparalleled security: One of the primary reasons homeowners and business owners choose to invest in a new fencing installation is to enhance security. At Twin Cities Fence, we understand the importance of safeguarding your property and loved ones. Our wide range of fencing options includes sturdy and robust materials such as wrought iron, chain link, and vinyl that provide optimal security without compromising on style. From deterring intruders to keeping children and pets safe within your property boundaries, our fences offer peace of mind.
Enhanced privacy: Your home is your sanctuary, and a well-designed fence can provide the privacy you desire. Our team at Twin Cities Fence specializes in creating privacy fencing solutions tailored to your needs. Whether you prefer classic wooden fences or modern vinyl panels, we offer a variety of options that provide an effective barrier against prying eyes. Enjoy your outdoor space without worrying about nosy neighbors or passersby.
Aesthetic appeal: Aesthetics play a crucial role in improving your property's overall curb appeal. With our expertise in fencing design, Twin Cities Fence can help you transform the look of your home or business. Our vast selection of materials, styles, and finishes ensures that you can find the perfect fencing option to complement your property's architectural style and personal taste. From ornamental iron fences to charming picket fences, we have options for every aesthetic preference.
Durability and longevity: Investing in a new fencing installation is a long-term decision, and we prioritize durability and longevity in our offerings. Twin Cities Fence sources high-quality materials to ensure that our fences withstand the test of time and the Minnesota climate. Our team of skilled professionals installs each fence with meticulous attention to detail, ensuring a sturdy and reliable structure that will last for years to come.
When it comes to enhancing the security, privacy, and aesthetics of your property, a new fencing installation from Twin Cities Fence is the perfect solution. With our wide range of options, expert craftsmanship, and commitment to customer satisfaction, we are the premier choice for fencing in the Twin Cities area. Contact us today to schedule a consultation and let us help you find the ideal fence to transform your property into a safe and stunning space. Trust Twin Cities Fence for all your fencing needs!