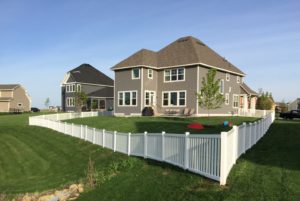 If you're looking for a fencing system that will add style to your property and complement the design of your home or business, what better fencing to use than a decorative fencing system? At Twin Cities Fence, we have a wide variety of fencing materials, styles, and designs for you to choose from, ensuring that, no matter what fence you're imagining in your mind, we'll help you make that fence come to life on your property. We provide Coon Rapids, MN decorative fencing installation services, installing steel and aluminum ornamental fences, vinyl decorative fences, and decorative wood fencing at your home or business.
Steel Ornamental Fencing Systems
One of our decorative fencing installation options is our ornamental steel fencing, a more traditional decorative fencing that imitates the old wrought iron fences we used to see. Steel is much more durable than wrought iron fencing though, so it's a great alternative to wrought iron. Our customizable steel ornamental fencing also has the advantage of being as decorative or simple as you'd like, with custom steel designed fences that are sure to make your fencing system, and your property, stand out.
Aluminum Ornamental Fencing
Our aluminum ornamental fencing is similar to our ornamental steel fences in that aluminum decorative fences imitate wrought iron. However aluminum is not so close in appearance to wrought iron as steel fencing, so if you're looking for a more authentically traditional fence, a steel ornamental fence may be the best choice. That said, aluminum has an advantage over steel of being a more affordable fencing option that is also a more durable fencing material that steel. Our aluminum decorative fencing is coated for weather resistance, making for durable and long-lasting aluminum fencing that will not rust or corrode, even without maintenance.
Decorative Vinyl Fences
Contemporary homes often use vinyl fencing, as it's a fencing material that won't warp or discolor over time. We install uniquely designed vinyl decorative fencing that can complement your home's design or add a little style to an otherwise plain white fence. With lattice-work vinyl fences, vinyl picket fences, and countless decorative vinyl fencing styles, you can have the decorative fencing system you want without having to sacrifice style for security.
Wooden Decorative Fencing Systems
You might not think of wooden fences when you think of building a decorative fence, but wood is able to be crafted into as unique a fence as you can imagine, shaped into your dream fence unlike any other material can be. We offer decorative wooden fencing installation of wood lattice fences, intricately designed wooden picket fences, and more, ensuring that your wood decorative fence is everything you want and more. Contact Twin Cities Fence today at 612-443-1948, or send an email to contact@tcfmn.com, and find out more about our Coon Rapids, Minnesota decorative fencing installation services and available decorative fencing materials.