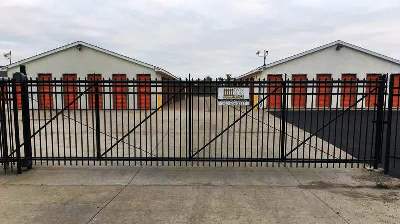 Do you have a commercial facility that you're looking to keep secure at all times? You may have invested in a security system, maybe even security cameras, but how are you protecting the perimeter of your property? Do you have a commercial gate that can help to protect who comes and goes in and out of your facility? If not, it may be worth looking into what it would take for a commercial gate installer like Twin Cities Fence to up the security at your facility. We've been providing commercial gate installation in the area for decades and would be more than happy to come out to your facility to better understand your needs.
Benefits of a Commercial Gate at Your Facility
Below are just a few of the many benefits of installing a commercial gate at your facility.
Boost in Security – One of the primary benefits of installing a commercial gate is obviously security. Thieves are less likely to attempt to access a property that has a commercial gate because these high quality commercial gates are extremely difficult to open.
Visitor Tracking – Another massive benefit of a commercial gate is that if it's automated, you can actually track who is coming and going. This way it's easy to go back in time to track if and when an individual, or company arrived and left your facility.
Convenience – If you have a manual gate and are tired of having to get out of your vehicle each day to open or close it, why not invest in an automatic commercial gate that can be controlled electronically from a keypad? This not only offers much more protection from a security standpoint, but it also offers additional convenience for you and your staff.
Boost Property Value – If you have a robust commercial gate system installed, it tells potential buyers that you're cognizant of using the latest security measures, which will likely translate into a higher sale price if and when you were ever to sell your property.
Twin Cities Commercial Gate Repair
While we're a local commercial gate installer, we also offer commercial gate repair as well. We're well versed in all of the major commercial gate mechanisms and technologies and would be happy to come out to your property if you have any issue that needs to be addressed.
Whether you're in the market for a new commercial gate, or commercial gate repair, feel free to setup a time for a free consultation by calling our office today at 612-443-1948.