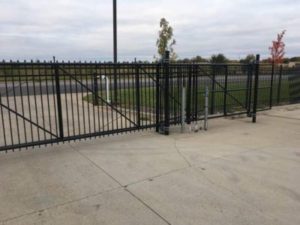 As a commercial property owner, there are a lot of possessions that you need to keep protected. Depending on your line of work, you may have expensive equipment, vehicles, etc., where you need some added protection for your property. If you are in the Minneapolis, MN area, our team at Twin Cities Fence serves as a commercial gate contractor. No matter what type of fence you currently have or may be looking into, we can install a gate on your property to ensure that your possessions are fully secure.
Peace of Mind after a Long Day
The last thing that you want to worry about after a long day at work is whether or not your commercial property is secure. Maybe your property is in a rough part of town. Rather than staying up all night worried about the equipment on your property, a secure commercial gate from Twin Cities Fence can make a world of difference when it comes to your stress level! Over the years, we've installed a wide variety of commercial gate systems including our most popular roller gate and swing gate systems. If the gate is the only thing missing on your existing fence, we'll match the commercial gate to the exact look of your surrounding fence so that it matches. If you've recently purchased a commercial property in Minneapolis and are in need of a fence from the ground up, we've got you covered as well. Don't delay the peace of mind that a commercial gate can provide you any longer than you already have!
Gate Material Matching
It makes sense that your commercial gate should match the rest of your fence. That is where our team at Twin Cities Fence sets itself apart from the competition. We are able to match your new commercial gate with any type of existing fence that you may have, including:
Aluminum Fences
Steel Fences
Ornamental Fences
Wooden Fences
Galvanized Steel Fences
Color-Coated Chain Link Fences
Vinyl Fences
24 Hour Emergency Gate Repairs
The gate on your commercial fence is a vital part of the overall fence system. If it isn't properly functioning, your employees may not be able to enter the property to work. We understand how important it is for your commercial gate to properly function, which is why we offer 24 hour emergency gate repairs. No matter what time it may be, simply request our repair assistance and we'll get your commercial gate working again in no time.
If you are ready to take the next step to properly protect your commercial property, consider investing in a high quality commercial gate. As a commercial gate contractor in Minneapolis, MN, we've got the experience and expertise to install a commercial gate on your property that will match any existing fence that you already have. To request a free estimate today, give our team at Twin Cities Fence a call at (612) 443-1948.