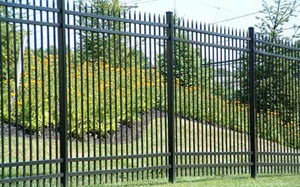 When searching for a fencing contractor in MN, you want to find a team that truly loves fences. At Twin Cities Fence, we live and breath fencing. We don't just think of fences as ways to secure an area or protect belongings. If done correctly, we feel like fences can enhance the look and bring personality to your residential or commercial property. So, if you are in the market for reliable and affordable fencing in MN, it is time that you considered the aluminum or steel ornamental fences that we have to offer.
Aluminum Ornamental Details
If you are looking for a maintenance free fencing option, then our aluminum ornamental fence is a wonderful choice. Our aluminum fences look just like the old, wrought iron fences that you used to see decades ago. The difference is that these aluminum ornamental fences are much more durable than those wrought iron fences. Say goodbye to having to pay the high costs of wrought iron fences as well as having to deal with rust. Our aluminum ornamental fences are long lasting, durable and most importantly, affordable!
Steel Ornamental Details
Our steel ornamental fences also mimic the look of the old wrought iron fences as well, yet with our steel fencing, you don't have to worry about the wear and tear that real iron fences can bring. When it comes to strength, our galvanized steel ornamental fences are one of the strongest fences on the market. The tough MN weather that we all have to deal with on a regular basis does not wear down our steel ornamental fences. Our galvanized steel provides your ornamental fence with a double layer of protection.
Residential and Commercial Fencing Options
At Twin Cities Fence, we love providing reliable fences for both the residential and commercial market. For four generations, we've been performing residential and commercial installs across Minnesota. What is great about choosing our staff is that we offer 24-hour emergency fence repair service. So, if you can't get your company's fence to open or if you're dealing with some fence damage at your home, we've got you covered. These types of repairs need to happen quickly, which is why we offer 24-hour service.
So, if you are in the market for a residential or commercial fence in MN that will boost the curb appeal of your property, protect and last a long time, Twin Cities Fence has you covered. To request a free quote on your next aluminum or steel ornamental fence, give us a call today at (612) 443-1948 or email contact@tcfmn.com.