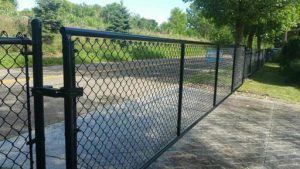 Do you own a commercial property and lack any form of privacy or security? Do you struggle with being able to store expensive equipment on your property during non-business hours? Well, if you fall in either category, it is time for you to consider a commercial fence for your property. At Twin Cities Fence, our dedicated fencing team specializes in commercial fence installation. We're eager to give you peace of mind when you're away from your commercial property.
Your Trusted Commercial Fence Experts
A fence for your commercial property is not a cheap investment, so it is important that you are comfortable with the company handling this installation for you. At Twin Cities Fence, we let our experience do the talking. Our fencing business has been serving the area for four generations. What has made us so successful over the years is that we've developed a reputation that we can be trusted and that the fence you invest in will be durable and affordable.
Plenty of Commercial Fence Options
Not all commercial fences have to be bland. We want you to truly love the finished product of your commercial fence installation, which is why we provide our clients with plenty of fencing options. Some of the most popular commercial fences that we offer include:
Chain Link Fencing Systems – This is your most basic option where the fence will provide your property with added security, but not much privacy. This option can be color coated to your preferences and is available in various weights and heights.
Vinyl Fencing Systems – Most of our clients choose a vinyl privacy fence when utilizing vinyl as their preferred fencing material. The reason is that this option provides protection and it also makes it much more difficult for intruders to see inside your property.
Wooden Fencing Systems – Wooden fences are very versatile and allow you to install a lot of types of fences, depending on your preferences. There may be a little more maintenance with this option, but it definitely gets the job done!
At Twin Cities Fence, we understand that choosing the right fence for your commercial property can be overwhelming. The good news is that our experienced fence installers are here to help you with any questions or concerns that you may have. From there, we'll help you decide on the perfect fence for your commercial property. To request a free commercial fence installation estimate, give us a call today at (612) 443-1948.