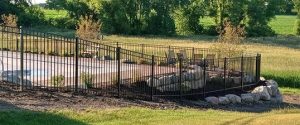 As a homeowner in the Twin Cities, one of the most important decisions you'll make is selecting the right type of fence for your property. A well-chosen fence not only enhances the curb appeal of your home but also provides security, privacy, and a sense of ownership. With numerous options available, it can be overwhelming to determine which type of fence will best meet your needs. In this blog post, we'll explore some key factors to consider when selecting the perfect fence for your Twin Cities home.
Identify your purpose: Start by identifying your primary reasons for installing a fence. Are you seeking privacy from prying eyes or noise reduction from the bustling neighborhood? Do you have children or pets that need a safe and enclosed outdoor space? Determining your purpose will help you prioritize the qualities you seek in a fence.
Consider the material: Fences come in a variety of materials, each with its unique advantages and aesthetic appeal. Wood fences offer a classic look and can be customized to match your home's style, but they require regular maintenance. Vinyl fences are low-maintenance and durable, making them ideal for busy homeowners. Aluminum and steel fences are known for their strength and security, while chain-link fences provide an affordable option for enclosing larger areas.
Evaluate your environment: Consider your surroundings when choosing a fence. If you live in a windy area, a solid panel fence may be more suitable than one with gaps. If you have close neighbors, consider a privacy fence that offers both seclusion and noise reduction. If you have a scenic view, opt for a fence that doesn't obstruct it, such as a wrought-iron or ornamental fence.
Check local regulations: Before finalizing your fence choice, familiarize yourself with the local regulations and homeowner association rules. Some neighborhoods have height restrictions or guidelines on fence materials and designs. Ensure compliance with these regulations to avoid any legal issues or potential disputes with neighbors.
Seek professional advice: Engaging a reputable fence company, such as Twin Cities Fence in Andover, MN, is crucial for making an informed decision. A professional team can assess your property, offer expert advice, and guide you through the entire installation process. They can provide insights into the best fence types for your specific needs, considering factors such as durability, maintenance, and budget.
Choosing the right fence for your Twin Cities home is a decision that should not be taken lightly. By identifying your purpose, considering materials, evaluating your environment, checking local regulations, and seeking professional advice, you can make an informed choice that meets your specific needs. Remember, your fence is not only a functional addition to your property but also an investment that enhances the overall appeal and value of your home. With the assistance of Twin Cities Fence, you can confidently select the perfect fence that strikes a balance between aesthetics, security, and practicality.